Location: California, USA
Payment Method: Paypal only please.
Feedback: Ebay EGL
Other: Smoke-free home, but I have two dogs. My lolita clothing is stashed away in a separate wardrobe all together + dry cleaned, but if you are allergic please shy away.




Bodyline black blouse -- $25 US shipped | $30 INTL shipped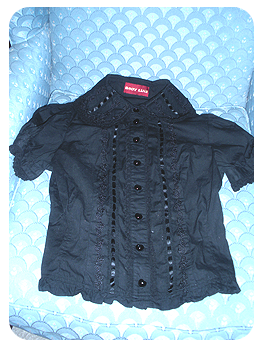 Detailed shots : Sleeve Lace & Button detail
Stock photo : Bodyline l083
Nice thick cotton material with cluny lace on the sleeve cuffs and rose lace down the bodice.
The buttons are shaped like hearts. The colour really is a nice deep black. I just used flash to lighten for details.

I'm selling this because I didn't realize how short it was on me. 50 cm is not long enough for my torso (I am 5'4") so I'd suggest this blouse for someone smaller-even in the bust. My bust is 36 which is the max and it kind of gapes. So a 34 or below would work better.