Well, it's time to make a Sophie's Choice about who will go and who will stay in my fluffy, ridiculous closet. Hard thinking and angsting were required, but facts were faced ._. What can I say, I have more frills than monies. Looking for good homes for these lovely darlings!
***

These are all direct sale items.
The prices listed include shipping from the USA. Insurance is optional, at the buyer's expense.
Payment is in USD.
Payment can be made via PayPal, or if you are within the USA and willing to wait then Money Order is also fine. I prefer non-CC PayPal payments if possible.
I am listed positively on the new egl feedback forum, as well as on eBay (as pg-chan). eBay feedback, EGL feedback
Please comment or message me with any questions.
Reasonable offers are worth a shot, comment or PM if you really want to negotiate but I'm not currently interested in trades.
The mannequin on which these are pictured has a 36in (91/92cm) bust.

*****
Alice and the Pirates pink OP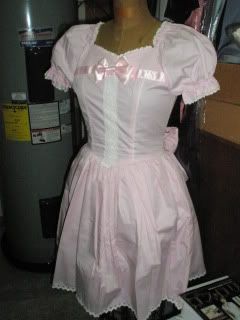 This is a very cute but simple pink OP from AatP. Tried on, but never worn, in excellent condition. It zips up the back, with a back bow also. The back-style is a tiered bustle type skirt. I would say the bust is 36in, with a waist of about 30-31in. It's awful cute, not too over the top for a sweet style, but my chest/back measurements were just a tad much for it. ^^;
back style

Shipped w/i US: $110
Shipped outside US: $115

***
Millefleurs purple jsk



This is a gorgeous gorgeous gorgeous dress that I got at the Kera shop in the Shinjuku MaruiONE. The color is so rich and the fabric so heavy and smooth! I've always been waiting to lose a little more weight so it would not only fit but look even better, but as I've gained weight in the past few years, that hope is just foolish now. Tried on repeatedly, but never worn. Millefleurs is a smaller loli brand - which means quality and available only through limited channels such as Kera shops. This dress is lined, with decorative cross-ties at the neck line. Zips up the back.
Measured flat: Bust = 17in. Waist = 14.5in. Length from shoulder to hem = 38in.
When this was bought my bust was approximately 90cm and waist approximately 74cm, and this fit perfectly, just to give you a reference point. (I used a petticoat in the picture above to better show off the shape; see other pic links below.)
back
without petti
different lighting for contrast
brand label
collar lace
frilled hem

Shipped w/i the US: $130
Shipped outside the US: $140
SOLD! Thank you!

***
h.Naoto Jelly shrug/bolero



Bolero/shrug from h.Naoto's h.jelly line - the Jelly line has a more girly flair with Naoto's trademark young punk gothic style.
Hard to say the bust on this since it's so open. Laid flat, roughly 43cm, but can be tied looser to allow more room, as well as tightened or loosened via laces in the back. The laces have not been adjusted. Worn once. Comfortable, but sadly this shade of pink doesn't match anything I have, so it's wasted on me.
back
flared sleeve detail

Shipped w/i the US: $25
Shipped outside the US: $30
SOLD! Thank you!

***
Alice and the Pirates striped socks



Got these from a luckypack a while back, but I already have a pair of this exact style. These are brand new, never worn, black and white striped knee-high socks, with the AatP logo embroidered at the top. I think striped socks are good for any lolita wardrobe X3

Shipped w/i the US: $18
Shipped outside the US: $24
SOLD! Thank you!

***
Baby the Stars Shine Bright, "Trick or Treat" cutsew



This is a white holiday cutsew from about 3 years ago, long sold-out. It has a transfer print with "Trick or Treat" and Halloween imagery, which includes the brand name. It has puff sleeves with lace edging, detachable long sleeves, and comes with a lace choker. I asked the salesgirl when I got it, and she said it was machine washable (the tag inside agrees). Gently used, clean, in excellent condition. The long sleeves attach via a series of small white buttons on the inside of the puff sleeves. The puff sleeves have elastic, so measured flat the sleeve opening is 6-8 inches. Measured flat, armpit to armpit, the chest is 17.5 inches. My bust (36in) is about the limit of this cutsew. Cute cute cute, but I think it's a bit young for me now.
print close-up
print, even closer
sleeves detached
back

Shipped w/i the US: $42
Shipped outside the US: $50
SOLD! Thank you!

***
Swimmer cat shirt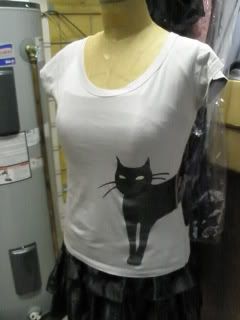 This is a S/M size shirt from Swimmer. Gray with a design of a black cat wrapping around the side (from back to front). The cat's eyes are a glittery green. I got this on sale while in Japan, and it was a little tight around my chest then, so I'm letting it go. It's probably best for someone with a bust that is under 36in - 36 is the MAX. It's been worn a couple of times, lovingly washed and kept, in great condition.

Shipped w/i the US: $15
Shipped outside US: $20

***
GothLoli magazine, vol 3, with patterns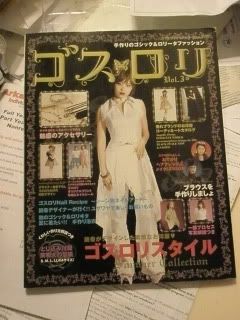 This is vol 3 of the Japanese magazine GothLoli (GosuRori). It is in great condition, with the sewing patterns intact inside. The magazine not only has lovely photospreads for several brand designs, but also short step-by-step tutorials on making accessories, sewing, nail designs, and make-up featured in different photos. There seem to be several patterns included, for a blouse, skirt, and one piece. I believe the pattern and instructions in the book (the sewing guide is over 25 pages long) tell you how to use the patterns to make several kinds of blouse featured (for example, one more sweet, one more gothic cut), ditto to the one piece and skirt. Each sewing guide section refers to the page with the picture of a model wearing the finished product. If you're a crafty loli, then this is definitely an interesting resource for making different kinds of accessories and hints on how to construct your own wardrobe pieces (there's even a short sewing guide on making a pannier!).
pattern

Shipped w/i the US: $10
Shipped outside US: $15
SOLD! Thank you!~

***
Metamorphose pink swan tote



This is the standard Meta tote bag, pink with the Meta swan logo on front. New, with tags, never used, fresh from this year's batch of luckypacks. I normally love totes, and this one's really cute, but since I already have a pink one, I'm letting this one go.

Shipped w/i the US: $19
Shipped outside the US: $24
SOLD! Thank you!

***
Black Peace Now, black blazer/jacket



This is a black blazer from Black Peace Now, size M, lined, with large buttons and laced-up accents on the sleeves and front bodice. The lace-up accents on the front do not actually open up to allow more or less room, they are purely decorative. The sleeve laces can be made tighter or looser, but are also mainly decorative. The laces add a small dash of gothic flair to an otherwise classic design. The bust, measured flat, is about 17in. Note that it could still button closed on the mannequin, but it was tight - this jacket is better for a 34in bust than a 36in. Even unbuttoned, this design does a good job hugging the curves of the body, so it looks good open as well. This blazer has been worn once, and is still in excellent like-new condition. (The additional photos below show detail of the laces, and also different lighting to show that it is truly dark dark black.)
sleeve and front laces
unbuttoned, with different lighting to show color

Shipped w/i the US: $40
Shipped outside the US: $45
SOLD! Thank you!

*****

Good luck and thank you for looking!