Shipping is not included in the price. Shipping is via the Priority Flat Rate shipping boxes/envelopes. Easier for you and me. Please ask for a shipping quote. If you want any other shipping method please let me know.
I will ship internationally but I need your country to get shipping quote and continental US buyers get priory since it's easier to ship within my own country. Sorry.
Please allow up to 5 days for me to ship your item(s) out.
If you need (not want) your items sooner then let me know and we can see if we can work something out.

Payment: Paypal (I have a Premier Account and I ask that you pay for the fees.). FIRST TO LEAVE PAYPAL GETS ITEM.
I will accept Money Orders, but not concealed cash. For USA only!
Payment expected within 3 days (unless you ask for me to hold an item). If you do not pay, the next person will get the item.
Once the item leaves my hands I am no longer held responsible for the item. If it gets lost in the mail, I'm sorry but there's nothing that I can do unless you buy insurance. No refunds.

Trades: NONE at this time, sorry.

Offers: Most of my prices are open to best offers. But please note that I accept the highest offer! So if you make an offer, but someone offers more, then the item goes to the highest offer.

Discount: I always combine shipping!
Similarly, if you have purchased from one of my previous posts and your package has not shipped yet, you can add any purchase from here at a slightly discounted rate.

Feedback:
EGLFeedback comm about +75



Previous Sales Post:
http://community.livejournal.com/egl_comm_sales/11263619.html



Non-smoking and pet-free house.
Any questions, just ask.



FIRST TO LEAVE PAYPAL ADDRESS GETS ITEM(S)!!!








This is my personal brand of gothic, punk, and lolita accessories. LINX has been my pet project over the years and I am finally able to bring it to all you lovelies~ Because this is the grand opening of my brand, I am offering you all this first batch at a reduced price. ^^

Please remember that everything is one of a kind, hand-crafted by me, and takes time to do.

If something is sold and you are interested in a reproduction of it just let me know and I'll see if I can recreate it for you. ^^ (Note - the reproduction will be at sales price only with this offer! :D)

This is just a small sample of what to expect from LINX, so keep an eye out for more sales posts. :D




ITEM 1: SOLD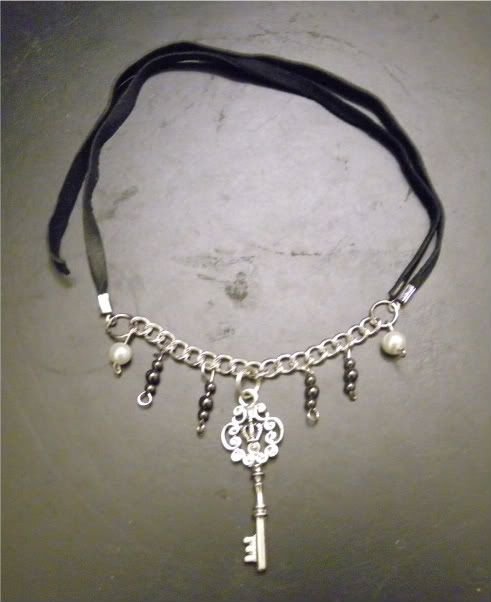 Detail - http://i169.photobucket.com/albums/u220/Kitty_Caesar/Linx%20Kreations/DSCN4073.jpg
Worn as a choker - http://i169.photobucket.com/albums/u220/Kitty_Caesar/Linx%20Kreations/DSCN4088.jpg

This is a one of a kind necklace that will be sized to your specifications! It can either be a low hanging necklace or a choker. It's all up to you~ Just let me know and I will size it. ^^ This will come with a normal necklace closure once I size it. :D

Materials: Metal chain, soft suede leather lacing, white glass pearls, onyx-black metal pearls, silver key, metal findings.

PRICE: $15 USD



ITEM 2: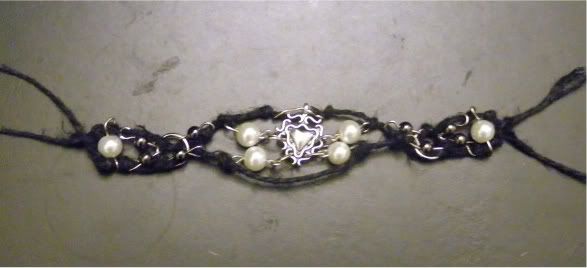 detail - http://i169.photobucket.com/albums/u220/Kitty_Caesar/Linx%20Kreations/DSCN4071.jpg


This is a one of a kind bracelet that will be sized to your specifications! Just let me know the length and I will size it for you. ^^ This will come with a good sized bracelet closure once I size it. :D

Materials: Leather cording, white glass pearls, onyx-black metal pearls, silver flaming heart, metal findings.

PRICE: $12 USD



ITEM 3: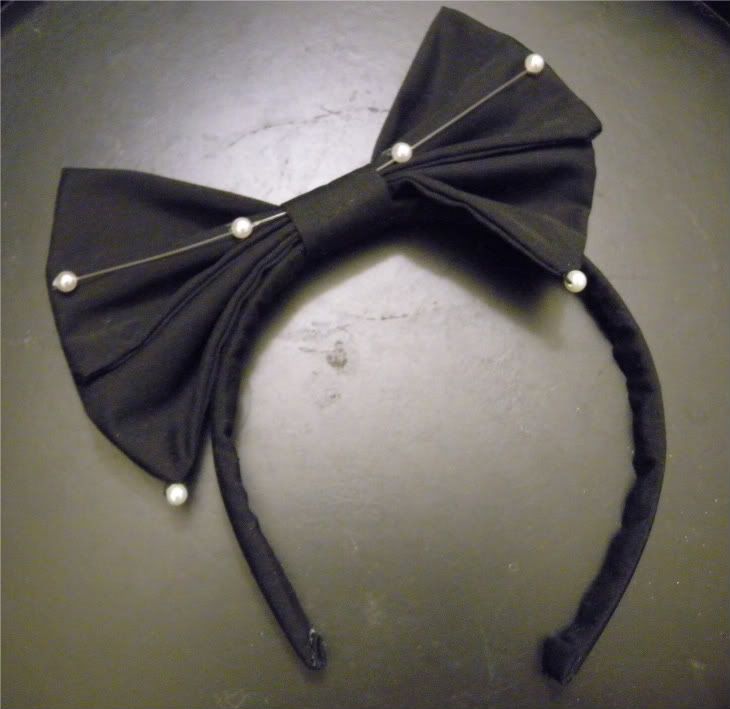 Worn - http://i169.photobucket.com/albums/u220/Kitty_Caesar/Linx%20Kreations/DSCN4081.jpg

Materials: Black cotton fabric, white glass strung pearls, white glass "loose" pearls.
NOTE - The bow is adjustable on the headband~ Can be positioned to the side or straight forward. :DD

PRICE: $18 USD



ITEM 4: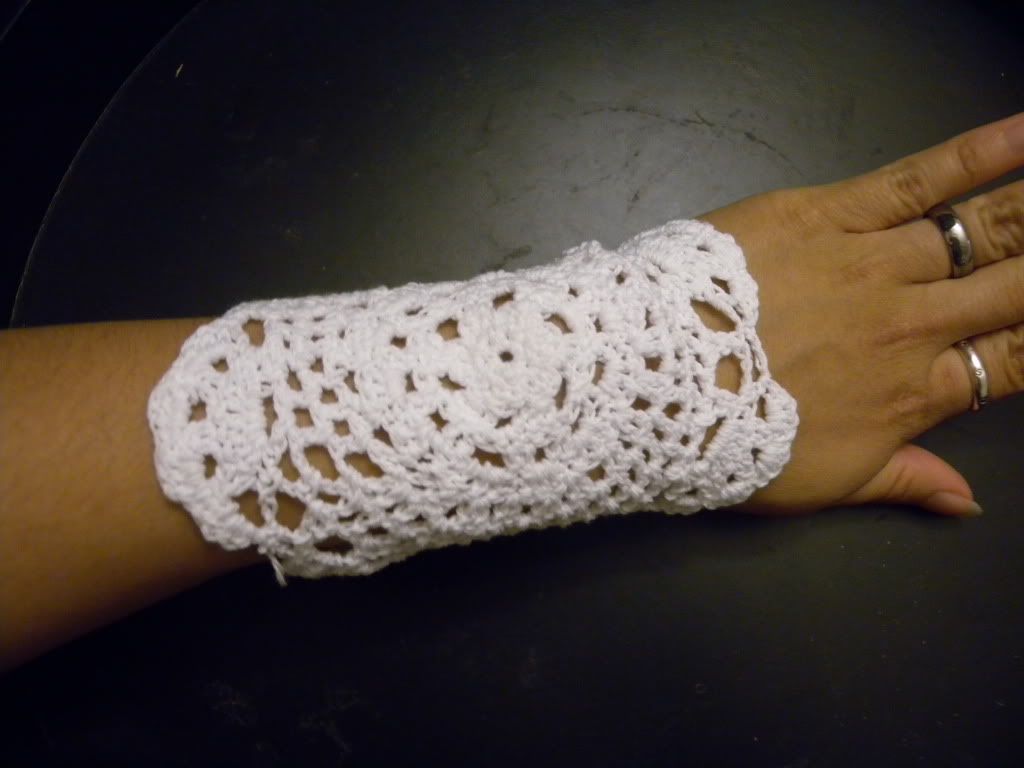 Underside - http://i169.photobucket.com/albums/u220/Kitty_Caesar/Linx%20Kreations/DSCN4066.jpg

Materials: White hand crocheted wristcuffs, plastic pearl button closers.
Note! You will receive a matching pair of these wristcuffs! :D Not just a single one. XD

PRICE: $8 USD



ITEM 5: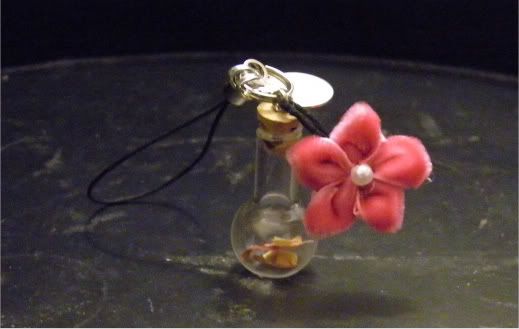 Laying down - http://i169.photobucket.com/albums/u220/Kitty_Caesar/Linx%20Kreations/DSCN4062.jpg
Held - http://i169.photobucket.com/albums/u220/Kitty_Caesar/Linx%20Kreations/DSCN4061.jpg

Materials: Glass vial with pieces of real yellow/red dried rose petals, pink velour flower with small plastic pearl, black cording, metal findings.

PRICE: $5 USD



ITEM 6:




Materials: Two large pins, metal chain, soft suede leather lacing, white glass pearls, metal findings.
NOTE - The white glass pearls can be switched for light pink glass pearls.

PRICE: $18 USD



ITEM 7: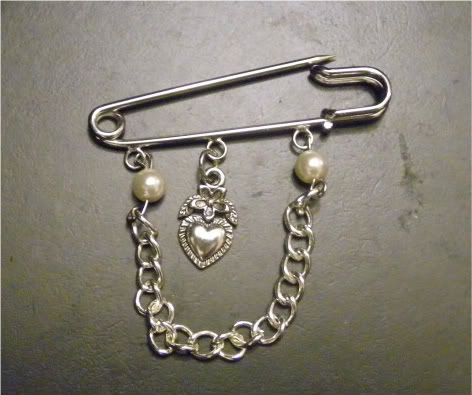 Materials: One large pin, metal chain, light pink glass pearls, silver heart, metal findings.
NOTE - The light pink glass pearls can be switched for white glass pearls.


PRICE: $8 USD









NORMAL CLOSET CLEANING SALES POST!



CARDIGANS/BOLEROS/THINGS THAT GO ON TOP!!


Offbrand black cardigan



Detail: http://i813.photobucket.com/albums/zz60/kittycaesar_sales/Lolita%20sales/ac62384c.jpg
Defect: http://i813.photobucket.com/albums/zz60/kittycaesar_sales/Lolita%20sales/5f483064.jpg


Bought this about a year ago and have used it quite a lot. Half of the snap on the last button is missing (see the pic), and the price reflects that. Still has a lot of life left. Feel free to make offers since I just want it gone. ^^

Size: Medium
Measurements upon request.

PRICE: $5 USD (Or best offer)



Black Moi-meme-Moitie Apron



http://i813.photobucket.com/albums/zz60/kittycaesar_sales/Lolita%20sales/1cd2df44.jpg
http://i813.photobucket.com/albums/zz60/kittycaesar_sales/Lolita%20sales/4b89a758.jpg
http://i813.photobucket.com/albums/zz60/kittycaesar_sales/Lolita%20sales/29a4be46.jpg
http://i813.photobucket.com/albums/zz60/kittycaesar_sales/Lolita%20sales/a0e03b7e.jpg

It beaks my heart to sell this, but I have only worn it once in the 3 years that I have own it, so it's time for it to go to a more loving owner. ^^ It's in WONDERFUL condition.


PRICE: $120 USD (Or best offer!! Will take the HIGHEST offer within 24 hours.)
Highest offer - NONE





OPs/JSKs!

Black/white BabyTSSB JSK SOLD!

http://i169.photobucket.com/albums/u220/Kitty_Caesar/Lolita/Sale%20Items/a219bc8a.jpg

Front - pocket damage
Front - more damage
Front - more damage
Front - Bottom lace damage
Front - bodice damage
Front - side lace damage
Front - interior damage
Back
Back - damage without flash
Back - damage WITH flash

There is a lot of discoloration on this JSK, I bought it this way years ago with the idea of re-dyeing the whole thing, but I never got around to it. The body/base of the JSK is in good condition (no rips, tears, etc but one of the eye hooks above the zipper is missing), there is only discoloration (bleach?). It's not too noticeable when worn and can be easily fixed! A good project/lounge around the house/playing/beach party JSK!! :D


PRICE: $50 USD



Black IW JSK



Back - http://i813.photobucket.com/albums/zz60/kittycaesar_sales/Lolita%20sales/DSCN4044.jpg
Bodice - http://i813.photobucket.com/albums/zz60/kittycaesar_sales/Lolita%20sales/DSCN4045.jpg
Worn - http://i813.photobucket.com/albums/zz60/kittycaesar_sales/Lolita%20sales/DSCN4043.jpg

Very little fading from everyday wear, but it's not really that noticeable. Is still in wonderful condition!! Most pictures were lighted/had flash to show the detail work!!

Measurements
bust - max of about 34 inches
Waist - max of about 29 inches
Length - 35 inches

PRICE: $125



PURSES!


White/black offbrand purse



http://i169.photobucket.com/albums/u220/Kitty_Caesar/Lolita/Sale%20Items/ff1daabd.jpg
http://i169.photobucket.com/albums/u220/Kitty_Caesar/Lolita/Sale%20Items/bbbf80d4.jpg

There are some very light yellow marks on this, but it's not that noticeable at all. ^^ Sturdy and can hold quite a bit!

PRICE: $2 USD




SHOES!



Black/white Montreal shoes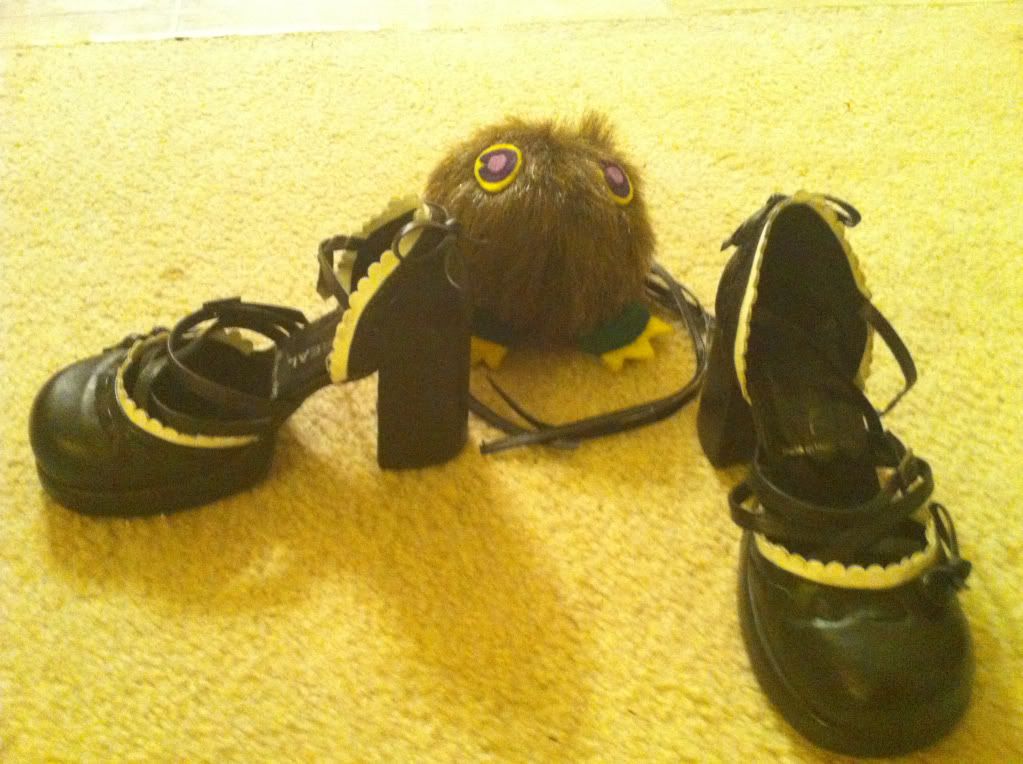 http://i169.photobucket.com/albums/u220/Kitty_Caesar/Lolita/Sale%20Items/6898542d.jpg

Size: I think they are 23cm but I can double check (I have a size 5-6 US foot and they fit~)

PRICE: $30



Black offbrand sandals



detail - http://i169.photobucket.com/albums/u220/Kitty_Caesar/Lolita/Sale%20Items/4bff54a7.jpg
heels -http://i169.photobucket.com/albums/u220/Kitty_Caesar/Lolita/Sale%20Items/56368852.jpg


Size:

PRICE: $15 USD (or best offer)








Preivious Sales:
http://community.livejournal.com/egl_comm_sales/11263619.html





Whew~! That's it. Questions are welcome~! ^_^

(Non-sale related comments will be screened for the sake of a neat and tidy post. Also, PP addresses will be screened for the buyers protection. Thanks! ^^)