Payment and shipping:

* Prices are in euros and don't include shipping cost
* I accept Paypal and bank transfer (bank transfer only for orders within the EU)
* I ship from Finland


Feedback:

I have a feedback page in eglfeedback community and I also have lots of positive feedback in my selling journal:
http://community.livejournal.com/eglfeedback/263254.html
http://millenaire.livejournal.com/4946.html


DS: Blackxwhite vest and skirt set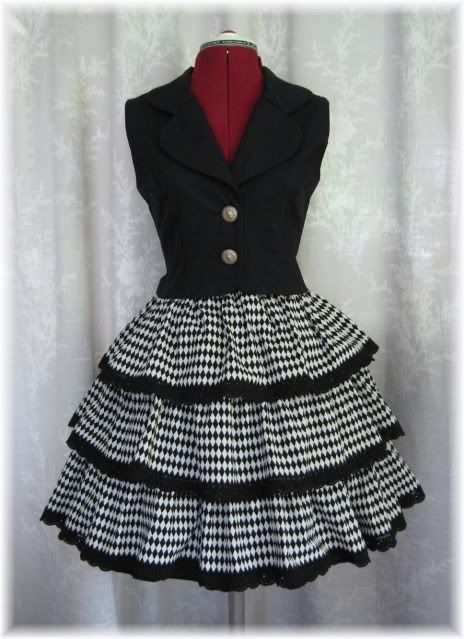 Both the vest and the skirt are handmade by me and they are sample pieces so they have only been used to take pictures for my selling journal. The vest is quite short and the cut is tight-fitting so it works well with high-waisted lolita skirts. It has a rounded collar and fastens with two big silver buttons. The skirt has elastic waist and all three layers have been trimmed with black cotton lace.


Size:

The vest measures approx. 92cm at the bust and 77cm at the waist but these measurements have been taken flat and the fabric doesn't stretch so I'd recommend it to someone whose measurements are a bit smaller. The length from shoulder to hem is 43cm.

The waist of the skirt is 70cm (stretches up to 80cm) and the length is 50cm.


Prices:

The normal ordering price for the vest is 60e and for the skirt (with this same fabric) 80e but since these are sample pieces I will sell them for a cheaper price.

The prices are 45e for the vest and 50e for the skirt or 85e for the whole set.


Commissions:

The vest and the skirt are available for commissioning and can also be ordered in other colours. Please see my journal for details:
http://millenaire.livejournal.com/





Older sales posts:

I have some clothes and accessories for sale in my older sales posts:
http://community.livejournal.com/egl_comm_sales/10714538.html
http://community.livejournal.com/egl_comm_sales/10921815.html

Feel free to make offers!