Some quick information before the items:
Shipping: Prices do not include shipping; where possible I've listed shipping estimates. If anything costs less to ship than I have charged, I will immediately refund the difference. I can ship Monday through Saturday. Shipping prices are for international airmail from New Zealand, hence the slightly higher prices.
Payment: I accept Paypal and greatly prefer to use the sale option since it provides the buyer with protection. I do not charge Paypal fees. All prices are in US dollars.
Feedback: I have feedback here at
eglfeedback and at my commissions journal,
hearts_princess.
All prices are negotiable, please feel free to make an offer! No holds unless I know you or you leave a non-refundable deposit, first to list Paypal address and pay full price has highest priority.

Trades: I will look at trade or partial trade items, I'm interested in old-school sweet prints from Baby, less OTT-sweet items such as Innocent World, ETC, BtSSB, some AP but show me what you have. No handmade or off-brand items please. Very interested in mermaid or other fairytale prints.

On to the sales!

Angelic Pretty pink velveteen skirt with bustle back - $120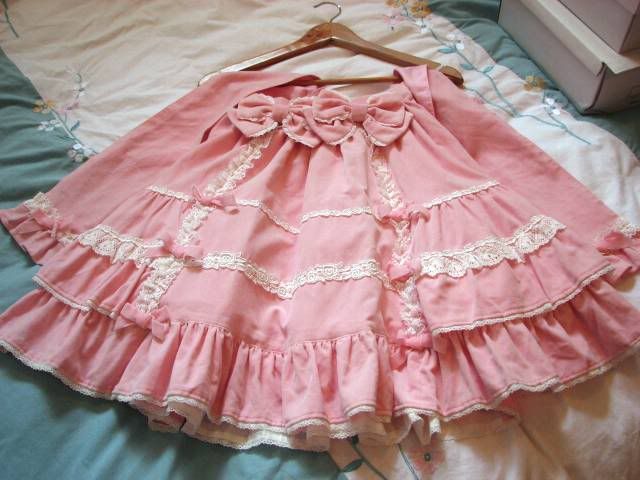 This is an amazingly cute pink velveteen skirt from Angelic Pretty, with a white bustle-back panel. The velveteen is soft, with no crush marks, and the waist bows are on detachable pins so can be worn as hair accessories as well. It has a built-in tulle petticoat to help give it support and fluffiness. Was traded for another skirt but I have never worn it and it still looks near-new.
Size: Has two small sections of shirring so will fit about 24-26".


Hearts Princess blue rose stripe bustle skirt and headdress - $70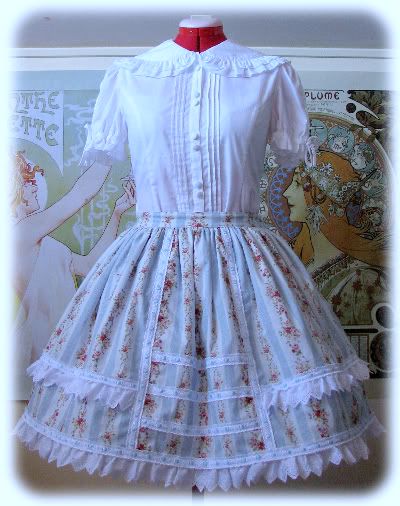 This is a pretty rose stripe print skirt in blue, with a ruffled bustle back and detachable bow. More photos are available here. It has been worn a couple of times by me but is still in near-new condition and will be gently hand-washed before sending. It is handmade by me, fully lined and with beautiful embroidered cotton lace. Includes the matching flat headdress.
Size: Fits between 28-30" waist. 19" long not including waistband.

I'm happy to haggle on these two, so please feel free to make an offer if you're interested.