Payment Method:
Paypal & Paypal CC
Prices and payment in USD

PLEASE READ:
-Shipping is whatever is the cheapest. For items over 13oz, this means Priority. For items under 13oz, this means First Class Mail USPS, typically takes 5-10 business days (so that's like anywhere from a week to two and a half weeks).
-If you would like shipping by USPS priority mail, or any additional services, please specify (it will be an extra charge). Insurance is a buyer's responsibility. I ship it out as carefully as possible but what USPS does with it is out of my hands.
-If you need the item within a certain time frame, please specify, but the shipping will be higher.
-International buyers welcome, but please be aware of higher shipping costs.
-Tracking: If you live within the USA, I will NOT ship without tracking (it's like $0.70 and will be automatically added to the cost of shipping). If you live outside the USA, I understand tracking is very expensive, so it will be optional with the implicit agreement that I am not responsible if your package gets lost without tracking. I ship these out, but what the postal system does with it is not up to me. The exception: Italy. Under no circumstances will I ship to Italy without tracking.

I have +2 feedback at the comm: here (http://community.livejournal.com/eglfeedback/317335.html if the link refuses to work)

Anna House - Red Classic OP
Stock photos: click here
Proof of ownership:


Size: Small (Bust: 32-34in Waist: 26-28in)
Never worn. Tried on once. Gorgeous OP - it just doesn't fit my waist right! =(
Price: $70 - bear in mind, this dress is in pristine condition and has never been worn except for about 5 minutes when I tried it on.

Yellow flower fabric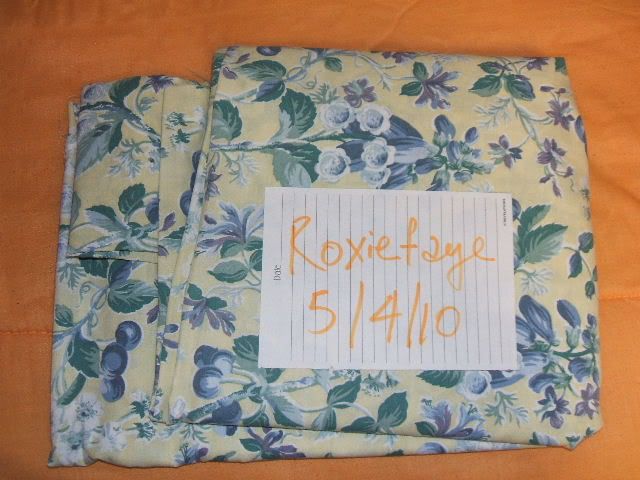 Additional photos:
img.photobucket.com/albums/v440/RoxieFaye/2009_0821Image0013.jpg
img.photobucket.com/albums/v440/RoxieFaye/2009_0821Image0014.jpg
Sorry for the old date on the picture - it's from an older sales post. These are supposed to be bedroom curtains - you can either use them that way, or seam-rip them open for use as skirt/JSK/OP/whatever you'd like to sew!

Each piece of fabric is: 99"l (2.75yd) x 45"w
As a curtain (so, seams folded up) each measures: 87.5"l x 40"w
Quantity: 2 left
Price: $4 each piece + shipping (please include zip code for shipping and e-mail for invoice)


Questions? Please don't hesitate to ask. Thanks for looking!