♥I'm also selling many wonderful things (like a blue ball gown and a black rococo corset) on my Etsy shop!
♥ My feedback is here!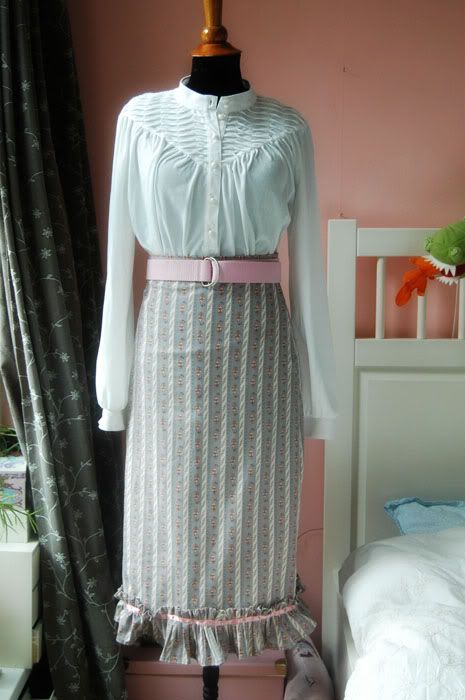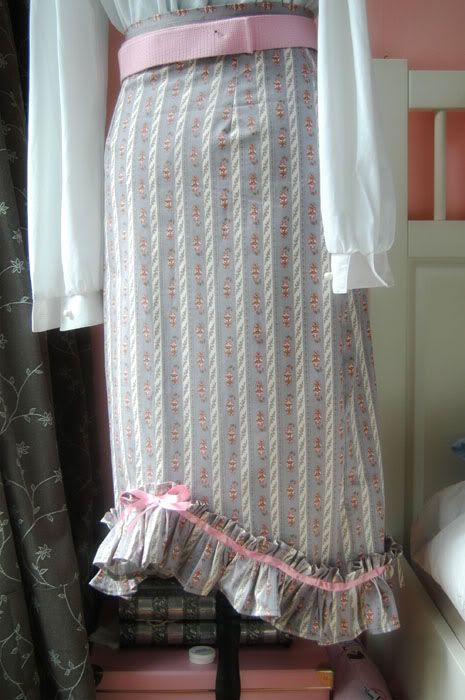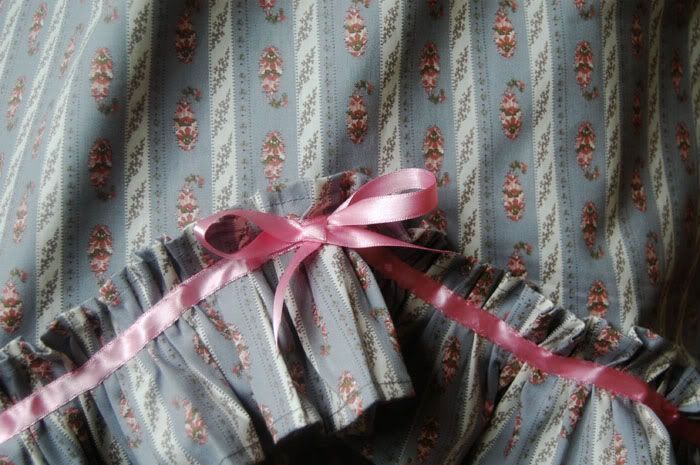 A very cute and slim-fitting skirt in a grey stripe, with a ruffle, pink ribbon, and pink bow in the back. The skirt closes on the side with a zipper and hook-and-eyes.

Waist: 68 cm / 27 inch
Hips: 90 cm / 35 inch
Length: 77 cm / 30 inch

40 Euro / 50USD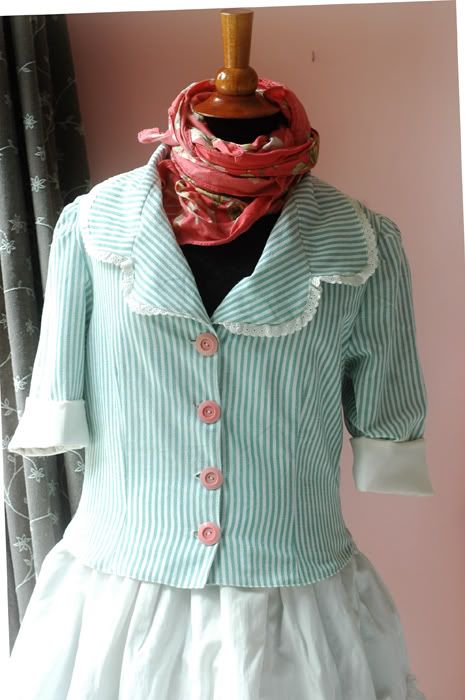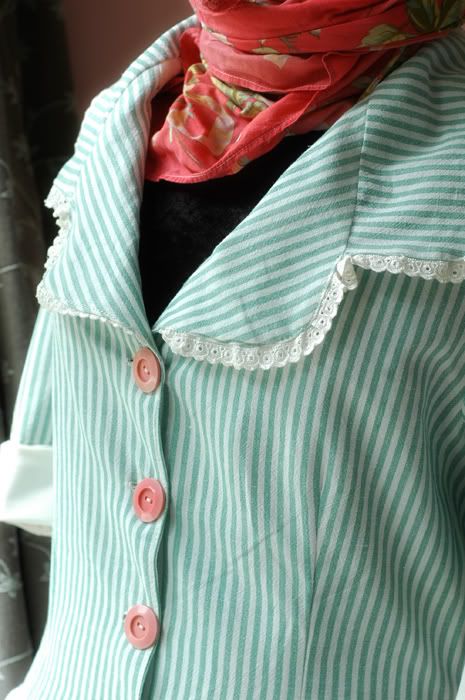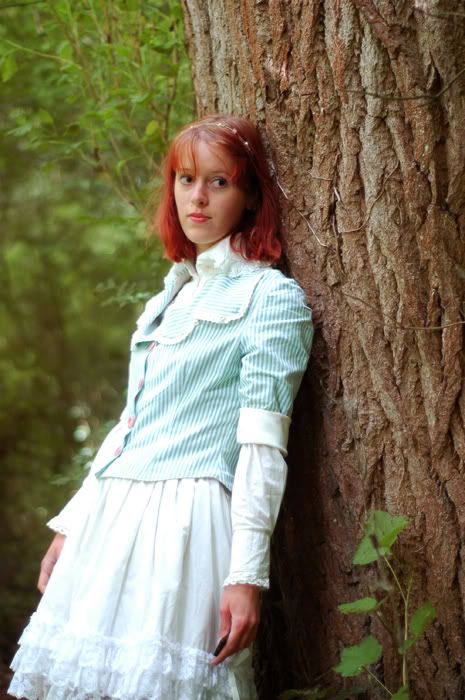 A very sweet short jacket in a bit of a rococo style, made from green striped cotton. The sleeves are 3/4 length and finished with a white cuff with a button. The inside is lined with a pale peach pink cotton with flowers. It closes on the front with four pink buttons. The lapels and collar are edged with lace.

Bust: 90 cm / 35 inch max
Waist: 85 cm / 33 inch max
Lenght: 50 cm / 20 inch

60 Euro / 75USD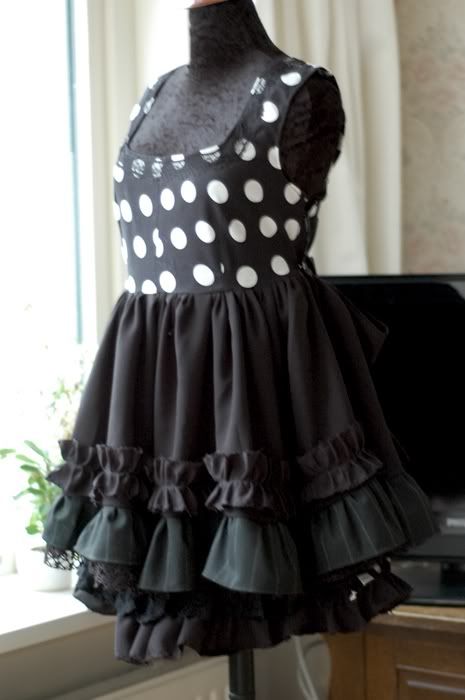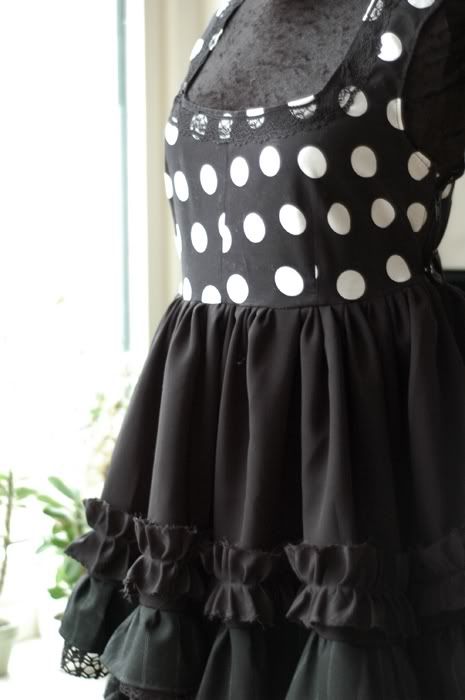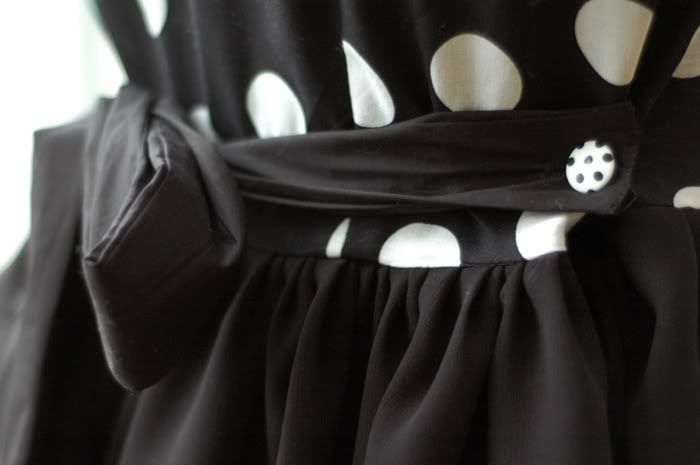 This is a babydoll dress consisting of a million different fabrics, most of them all piled up in the skirt! The bodice is a polkadot with a zipper and hook and eye in the side, and the neckline is edged in lace. The skirt part is double layered with about three different ruffles per layer, most of them purposely unfinished in a grunge-y manner.

The dress features waist ties on polkadot buttons, it ties in the back, front, or the ties can be taken off.

Bust: 90 cm /35 inch (I'm about 80 cm / 31 inch and it looks good)
Waist: 85 cm / 33 inch and smaller, due to waist ties
Length: 80 cm / 31 inch

53 Euro / 65 USD


The next two items are: Any good offer will do! They need good homes! :)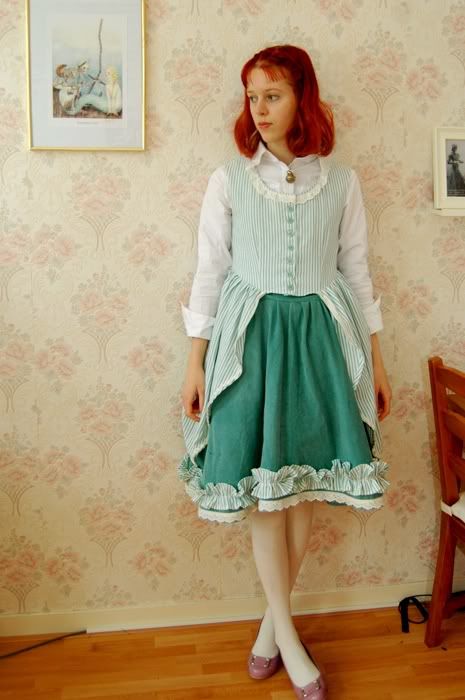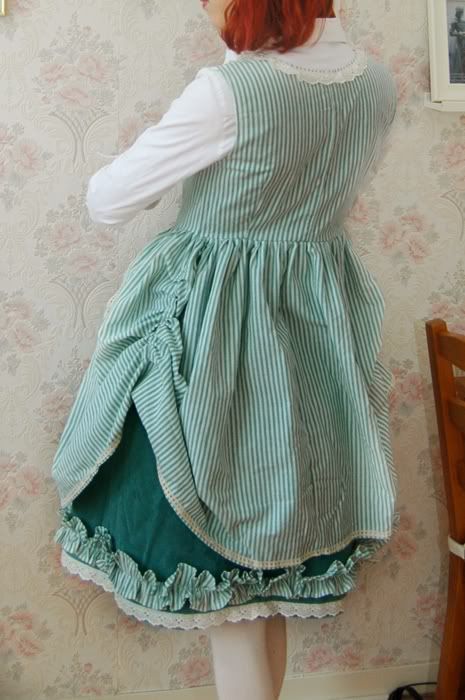 A really cute set consisting of a green skirt with lace and a ruffle, and an overdress made from green striped fabric. The dress buttons at the front, and can be attached to the skirt with snap-buttons. Since they're two separate garments, you can also wear the skirt alone, or use a different underskirt with the dress.

The skirt was made with vintage fabric, there's some very slight fading on some parts (for example a difference between inner and outer waistband. It's hardly noticable!)

Bust: 90 cm / 35 inch
Waist: 80 cm / 31 inch
The waistband of the skirt is slightly wider, but since there are snaps on the front, there won't be any gapping between dress and skirt.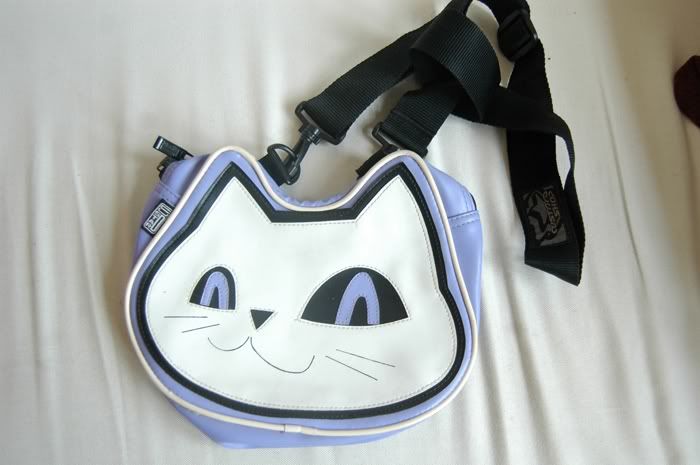 This cute random baggy might make someone happy :) Very decent construction, a very happy lavender kitty! Closes with a zipper.