♥ Paypal only.
♥ No Trades.
♥ Items will be shipped promptly within a few days.
♥ No Returns. Items will be as described.
♥ 100% Positive Feedback both here at EGL Sales and Ebay! View Here
♥ Free Shipping within the continental U.S.A. from California.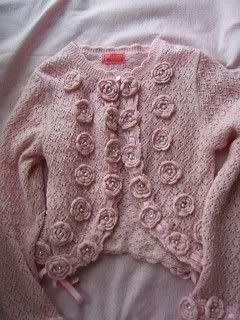 ♥ Authentic Baby the Stars Shine Bright Cardigan
♥ Color: Pink
♥ Material: 100% wool. This will keep you warm throughout summer evenings through fall, winter and spring
♥ Detail: Beautifully knit with exquisite knit flower details. Between each flower is a cute pearl. This pattern travels along the back.
♥ Condition: Worn only one time. Almost like new condition. Has been kept in my closet. Bought from BTSSB Online shop.
♥ Cost: $99.00 USD. (Original cost was over $150 with shipping from Japan).
♥ Free Shipping throughout the Continental U.S.A.