:copypastefromotherWTB:

Hello~ I'm -still- looking for a JSK for prom for $250 or less, including shipping to Illinois/US, that is mainly red, white/cream/ivory, pink, or black. If you have a JSK that is absolutely STUNNING but it's not one of the colors I listed you -can- post it, but understand it has a low chance of being picked! and if your JSK is a mix of the colors I listed that is fine, but no black and white themes please!

Here's the business~!

My Measurements?:
Bust - 36 in
Waist - 32 in
Min. Length of JSK - 30 in
Max Length of JSK - Around.. 35 in?

Things I am NOT looking for:
- scallop designs
- sailor loli
- full shirring
- that lucky pack jsk that keeps coming up in pink but I can't seem to remember the brand, haha. If you're not sure what I'm talking about just ask
- jsks that have this sort of sewing style I circled - it just turns me off for some reason!: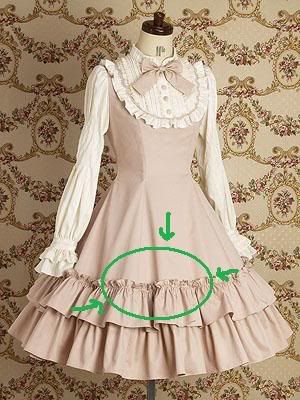 (I'll add more with the more I think of)

WARNING: I'm VERYVERYVERY picky. So please don't get offended D:

I also may not be able to pay for a few days because I have to get approval from the person who is buying it for me, so if you need the money immediately, this may not be where you want to post.

My feedback?: http://www.loligothdbs.com/chiisaimomo/

Thank you!