Terms of Sale (Sorry it is long winded!)

- I am shipping from Singapore

- Payment to be made within 3 days

- I accept payment by PAYPAL (cc or non-cc) only or bank transfer/meetup for Singaporean buyers
- Buyer pays Item Price + Shipping + Paypal charges (4%)
- Shipping is $30 USD worldwide and trackable using registered airmail envelope unless otherwise stated.

- No backing out allowed. Deadbuyers will be left negative feedbacks.

- No exchange, no refunds. But I will do my best to state items clearly in description.
- Comes from a smoke-free household but I do have dogs but they have never come in contact with the garment. Please be advised.

- I am not responsible for package after it has left my hands but I will make sure it is packed properly.

FEEDBACKS: [+4/0/-0] on loligoth_dbs and [+6/0/-0] on personal journal

Edit** - Due to the dbs being gone, new feedback link are provided.
Old Loli DBS - 2007 [+3/0/-0]
Cache New Loli DBS - [+4/0/-0]

Feel free to make a reasonable offer if you think the price is too high

If more than one person wants an item (within 12 hrs), priority goes to whomever offers the higher price.






(DS: 1) Baby the Star Shine Bright - Flower Cart JSK


Status: Worn - Front lace is slightly crumpled
Color: Sax Blue x White
Description: A beautiful piece from Baby that has full embroidery along the hem. Reminds me of Cinderella or a snowy day with the white embroidery on light blue fabric.


Measurement: Has partial shirring panel at the back, hidden behind lacing. Can fit a Bust: 92cm, Waist: 74cm.

Price: 170 USD + Shipping




Photos: [Back] [Embroidery] [Chest lace]





(DS: 2) Angelic Pretty - Royal Poodle OP
Status: No-defect. Mint condition. Worn once for a few hours

Color: Pink
Description: Angelic Pretty Royal Poodle series in pink colorway with rhinestone and poodle lace!
Measurement: 70~77cm waist, 90~95cm bust. Partial shirring panel at the back

Price: USD $230 + shipping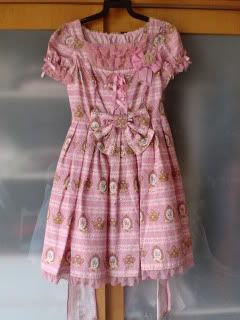 Photos: [Back] [Ribbon]

(DS: 3) Angelic Pretty - Victorian Princess set (OP + Headdress + Choker)
Status: No-defect. Mint condition. Worn for a few hours for photoshoot

Color: Black
Material: Silk + chiffon, comes with full lining

Description: One of my favorite winter pieces from Angelic Pretty but sadly I couldn't fit in. Special princess set that includes matching choker and headdress. The dress is full of bows and pretty lace. The sleeves flare out into a bell shape.

Original retail price at ヴィクトリアンSet… \41,790yen not including shipping and shopping fees.

No shirring. Measurement: Standard AP sizing. Max: 70cm / 27 inch waist, 90cm / 33 inch bust

Price: 350 USD + USD $35 shipping (this dress set is really heavy)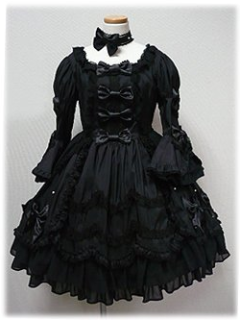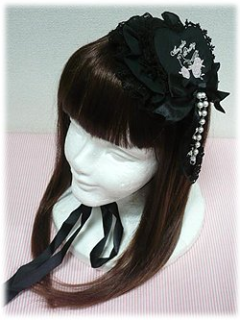 Photos: [Pink] [Front] [Back] [Set] [Headdress] [Hanging Up]



(DS: 4) Angelic Pretty - Cookie Heart Knee Socks
Status: Brand new without tag

Color: White x Pink

Price: USD $30 + $7 shipping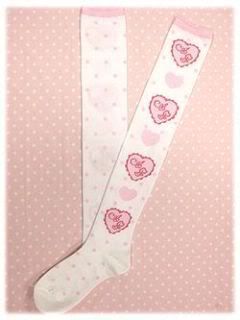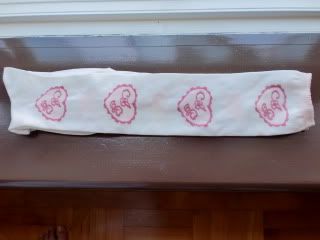 Photos: [Close up]



(DS: 5) Metamorphose temps de fille - Ribbon Swan Foldable Parasol
Status: Brand new with tag, 1 slight stain and rubbing of print
Color: White x Black
Description: Never opened up till today to take a photo. Able to be used in rain or shine. When fully folded, it is smaller than A4 size. The print is complete but there is some slight rubbing off from the print on to another panel. 1 small stain (<1cm) from long term keeping on the umbrella cover. You can try using a tide pen or eraser to clean it but I unfortunately have none of both right now.

Price: USD $30 + $10 Shipping (tracked)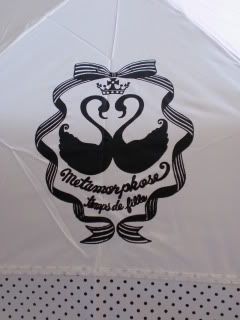 Photos: [Rubbing off] [Cover]

(DS: 6) Baby the Star Shine Bright - Heart Ornament Necklace
*SOLD*

Status: Brand new in box

Color: Silver-Gold x Black

Price: USD $30 + $7 Shipping (tracked)



(DS: 7) Authentic HongKong Disneyland - Mickey Tiara
Status: Brand new in box. Only taken out to try on once.

Color: Silver x Pearl x Rhinestone

Price: USD $30 + $7 shipping (tracked)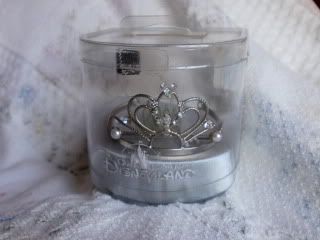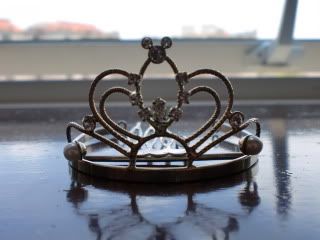 Direct Auction Terms
- All terms of sale applies.
- Payment: Item Price + Shipping + Paypal charges (4%)
- Separate payments of maximum two weeks allowed with a 50% non-refundable deposit within 3 days.

I would prefer buyers who have good feedback and 0 negative feedbacks. As such I reserve the right to delete the bid made and decide on the buyer. I do also reserve the right to close auction early.

Please do bid with confidence. ^_^
Edit** - Due to the dbs being gone, new feedback link are provided.
Old Loli DBS - 2007 [+3/0/-0]
Cache New Loli DBS - [+4/0/-0]

--------------------------------------------------------------------------------------------------

Alice and The Pirates - Sleeping Beauty JSK
Status: Worn for a few hours for a movie screening. No defects. Mint condition.

Color: Black Colorway

Description: Totally sold out on Baby/AATP website within reservation. The print portrays the story of Sleeping Beauty with the beautiful castle and trailing roses. It is still one of my favorite dresses thus I am looking to get back at least the retail price.

Measurement: Length:93cm(36.61inch) Bust:89~99cm(35.03~38.97inch) Waist:74~84cm(29.13~33.07inch)

Link to official page: http://www.babyssb.co.jp/shopping/pirates/106P205.html
Auction ended *awaiting payment*
Ended item price: US$320 by layou91

--------------------------------------------------------------------------------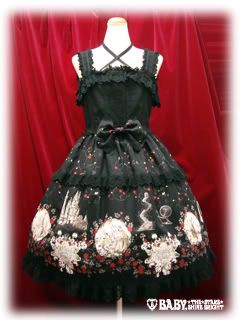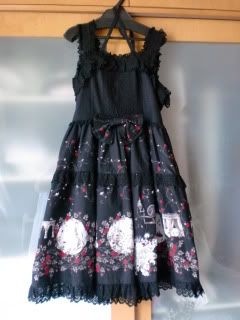 Possible Tradelist/WTB:
- Meta Star Candy Rabbit JSK/OP in Blue ONLY
- Angelic Pretty JSK/OP in RED or Black, either printed or lots of detailing with shirring pls.
- Moitie printed items >8D
*no pink or pastel colors*