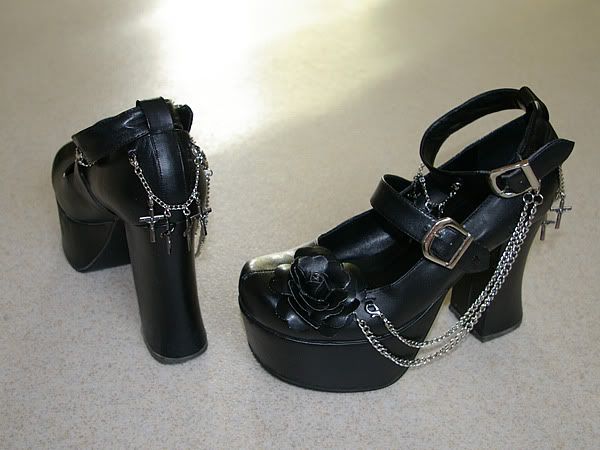 BLACK PLATFORM HEELS

♕ mid-height heels or higher. No low-heeled
♕ rounded toe, solid black colour
♕ size 22cm - 22.5cm ;D





BLOUSE

♕ black, not white
♕ short sleeves
♕ ties around the neck (cross-straps + open neck) like above, M-MUST MY FRIENDS!





OVER-KNEE SOCKS

♕ lace-trimmed with raschel lace, or something. I don't like ones that have lace just sewn on. I could do that myself. :P *bops self* Just show me what you've got. I don't know what I'm saying.
♕ black or white. Will also consider black and white. Not picky, but not off-white.





BUSTLE OR SCALLOPED SKIRT

♕ almost any kind, not-too-sweet prints. Well, classic, actually.
♕ should have a good big bustle back, BUSTLE BUSTLE BUSTLE love 'em. If it goes up and down with strings, all the more love from me!
♕ corseted waist preferred, please not the F+F one in black.

MISC







MEASUREMENTS, usually a size small to medium.

waist [ 65cm - 72cm / 25.6in - 28.3in]
bust [ 84cm / 33.1in]
feet [ 22.5cm / 8.9in ]

I have bought from
egl_comm_sales before but I have no feedback. Sorry guys. Let me buy something so I can get some feedback.

I have a flexible budget but I will only buy if I fall in love with it. =] Please show me more than what I've put up here, but keep the classical feel in mind and you're on track. I live in Australia. Let's see what you've got. Thank you so much!