My feedback on

Loligoth DBS

and

lilmisskaikai on ebay

I accept paypal, or Bank transfers from within the UK. *Not accepting Bank transfers from outside UK sorry.*

I don't accept trades at the moment.

I will ship from UK

Shipping cost is not included in the price, please enquire for an estimate.

If you choose shipping without insurance I cannot be held responcible for any lost parcels.

If you feel the price is too high, feel free to haggle.

Also I'm very sorry but I cannot do holds for longer than two days, as I need the money asap!

First up.

BTSSB Gingham rose ribbon OP: £140/ $200 OBO

Bust 82 cm, Waist 76 cm, Length 87 cm.

Proof of ownership: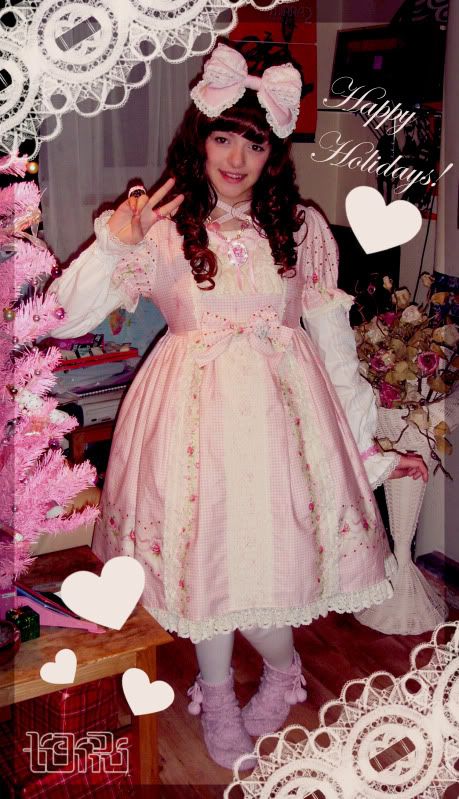 Condition: I traded this OP with another user on the comm and it is in great condition.
There are no visible flaws to the print however there is a button missing from the detachable sleeves.
I will replace it before shipping

Next up

Tarina Tarantino Pink head Sweet lolita necklace.: £90/ $140 OBO
Proof of ownership:
Condition: Perfect, It's almost brand new,
I bought this directly from TT's website and payed $163 plus shipping.
I wore it around three or four times and still have all the original packaging and tags.

Usakumya Bunnybear Pink Large: £150/ $230
Proof of ownership:
Condition: like new! bought from another person on the comm and loved VERY dearly, only taken outside once :) used lightly and cuddled lots!
I love this bag and am very reluctant to let it go, but alas I really, REALLY want to reserve the new wonderparty print. so It must go. As much as it pains me to let her go. :( please make me an offer!