Hello, this is my first sale!
I have no feedback yet, only some at the german Community Animexx. Maybe you can ask a fellow german Lolita. Thank you.

I am shipping worldwide!
Ask me for prices, to US tracked shipping would be 35€.
It's possible without insurance (for 15€), but that would be your own risk.

Item Description:

1. Set:

Sizes:

Skirt: freesize
Bust: 80~cm flat

This set has been worn and cleaned some times.
So the lace isn't brand new but you may get it in better condition through ironing.
This also explains the cheap price for you ;3
Pictures:




Price: 60€


2.Set:
This Putumayo Set is worn only once and in very good condition.

Size: strechable up until ~98 bust, Skirt again free size

Pictures:



worn: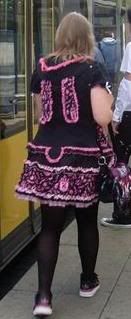 Price:120€



3. Set

Size: same like above

The top consists of 2 pieces, the black one is a regular cutsew, the ginham one has to be tied at your back.

Pictures:




Price: with chain 140€ without chain 120€



Payment is via Paypal only (except Germany and Austria, they can use bank transfer too)



Thank you for reading!