Hi everyone ! Here are a few things I don't use anymore, I hope they will make someone else happy ! But first, the boring stuff :

- I ship from France, I may not be able to answer immediately to your questions because of different time zone (+6 hours in France compared to the US)
- I accept paypal (+ fees) or bank transfer as a method of payment. Checks only for french people
- I am not responsible for any lost items. I try to explain the best the different shipping methods so that you can choose which one you prefer.
- I'd be glad to reply to your questions, but the item goes to the first person who gives her paypal address
- I ship the items within 4 working days after the receival of payment
- I do hold items but for one week maximum and with a 10% deposit
- No trades at the moment please.
- I have positive feedback under the name "_lovegood" at loligoth dbs


JSK Angelic Pretty "Dessert Collection" in sax and silver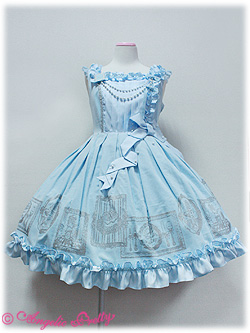 [
My proof picture
] [
Print closeup
]
Gorgeous JSK from the "Dessert Collection" of this winter, sold out at the release in this color as the Marionette Girl collection. Brand new with tag. Bought via Tokyo Rebel with a lot of difficulties - they only managed to get two JSK of this collection - I barely tried it. It's really a wonderful dress with a lot of work on fabrics, with draped velvet, chiffon with perls and lace. It was my birthday present but, looking in the mirror, I just don't think it suits me.
91cm bust and 70cm waist with shirring at the back so add 2-3cm.
220€ which is really the price I paid for it.


I still have a Milky-chan parka in black to sell here : http://community.livejournal.com/egl_comm_sales/9915036.html#cutid1 that I'm lowering to

85€

so please comment here if you're interested !