My EGL feedback link: http://eglfeedback.livejournal.com/1586024.html (42 Positive)

I ship from CA, USA
I will ship to international, but you need to post address so I can give you your shipping options.

Rules
*First person to post their paypal addy (or post that they will PM me it) gets it.
*Shipping price not included.
*Welcome to questions. If you want more details or more photos of something let me know!
*Prices are in USD, no paypal fees
*No smoking.
*Once I have shipped the package, I am no longer responsible for it.

*If you don't like the price, feel free to offer.
*If you want to trade, I am more than willing to add to my side to make it a fair trade. (Do let me know that you're interested! I want these to go to someone who will love them and give them the use they deserve! So I am very open to trades)

Shipping costs for within USA. (Includes packaging material costs) Inquire for international shipping options
Small item, First class shipping with tracking/delivery confirmation. 4 USD
Flat Rate Priority Mail Envelope with tracking/delivery confirmation 6 USD
Flat rate Priority, Medium Box (for JSKs), shipping with tracking/delivery confirmation 14 USD

Angelic Pretty - Dot Pretty Girl JSK (New with tags, only tried on)


Proof Photos: Front / Front Detail / Bow Detail / Bottom Detail / Tags / Back
Original Price from AP: 289.15
Selling for: 289.15 269.26 228.59 USD

Link to JSK on lolilibrary
Size Details:


Bought this brand new from AP SF online. Only tried on once. Turns out I should not buy any JSKs without back lacing, it's too large for me. I love this dress, but I just can't pull off the look. I'm especially open to offers or trades. :)

Note: For those curious about stretch so with my amateur measurements, and it not ever being stretched before I got a max of 37 in flat. 38 flat if i really stretch it. Due to the design it looks like it doesn't have too much stretch. So seems like a 74-76 cm max going around. The black bow portion is detachable and has partial shirring hidden underneath the bow (view bow detail photo) and is a little more stretchable to a 78 cm max.

Angelic Pretty: Logo Ribbon Charm Wrist Cuffs: Pink x Pink: New with tags

Price: 45.68 43.90 USD
Proof: Photo
Link on LoliLibrary: http://www.lolibrary.org/node/11350

Bought directly from AP SF online. These are new with tags. I always think wristcuffs look cute but I never got around to using these. Check out my photo for more of the details, as well as lolilibrary for detail stock photos.

Angelic Pretty: Royal Card OTK Socks - New Never Opened


Proof: Front / Back
Price: 34.50 31.05 USD
Got these from AP SF's Second anniversary Tea Party. They're not my style, so I've never even opened them.

Angelic Pretty: Sugary Carnival Tote - Opened but never used

Proof: Packaging / Tote
Price: 46.68 44.35 USD

Packaging has been opened for the tote but never used it. Tote will be shipped with original packaging.
Does not include the mook.

Metamorphose: Typewriting Squirrels OTK socks - NWOT


Price: 28 20.41 13.43 USD

Never tried on. Received these in my Summer Meta Lucky Pack. Selling because my lolita wardrobe is still too limited to have anything to match with these.
Baby: Pintucked Sleeves Blouse (136★402)

- New with tag
Proof Photos:
Front
Detail
Tag
Price: 99.12 USD
Original Price: ¥12,390
Link on lolilibrary:
http://lolibrary.org/node/11386
Measurements: Bust: 97 Waist: 81 Length: 55

Bought from another user on the EGL comm sales when I was stocking up on white blouses. It looked huge in person so I looked up the measurements to realize that it was way too large for me. Previous user has not worn it yet either.
Sweet Angel - Pink Bolero - NEW


Proof Photos: Front / Fabric Detail / Back
Price: 32 28.80 USD
Previous owner: http://egl-comm-sales.livejournal.com/20534414.html

Bought from another user on the egl comm sales, who states its new. I have never worn it either. It's made out of a corduroy fabric (see fabric detail shot).
Due to the length of the ties, it has a lot of give for free size.

HMHM: Coat Set : NEW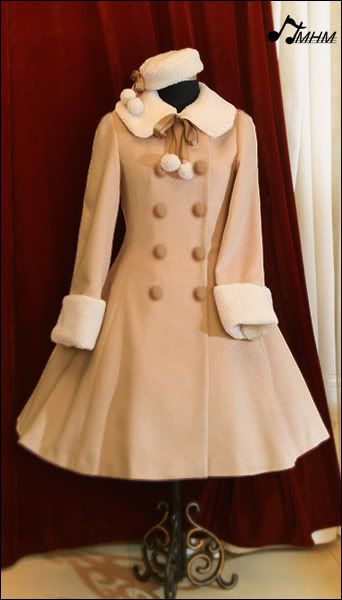 Proof Photos: Front / Back / Top Detail 1 / Top Detail 2 / Hat / Sleeve
Price: 75 67.50 USD
Listing on HMHM: http://item.taobao.com/item.htm?id=8531772642
Previous owner: http://egl-comm-sales.livejournal.com/17286467.html

Bought from another user on egl comm sales. After a year and a half of not getting around to using it, it's time to let it go.
Both the previous owner and I have only tried it on.

It comes with detachable collar, cuffs and pom poms which allows it to be worn a couple of different ways. While this is a lined coat, I would suggest it for light winters.

My proof photo only has one petticoat underneath, however, it definitely still has plenty of room for another 2-3 petticoats if you so desire. :)

Measurements from previous owner:
bust: 34.5" / 88cm
waist: 28" / 71cm
The buttons may be moved over a few inches if you are handy with a needle and thread, to increase the bust and waist measurements.
sleeve length: 25" / 63.5cm
total length: 40" / 101cm

I am currently interested in trading for:
blouses (especially cream, ivory, beige! size s), boleros or cardigans (especially knit!), accessories (AP, Chocomint), shoes (size 23.5), socks (lavender)

Older Posts:
WTB: AP (Beige) Sheep Garden JSK, Meta - Marguerite Wreath Skirt
WTB: Headbows/Necklace (Cinema Doll, Twinkle Constellation, Galactic Journey)

Wishlist