General Sales Info
All prices are in US dollars
I do not smoke or own any pets
Prices do not include shipping unless noted
No Holds or Trades at this time, I really need the money for tuition and rent. m willing to do a maximum of one week holds at this time and will trade for things I am interested in such as: brown & blonde colored wigs, liz lisa (I love florals!! but will look at anything liz lisa), Juliette et Justine, AatP, some Btssb, Mary Magdalene, Innocent World (blouses and boleros especially), fawn fur stuff, boots (im 22.5cm/ 5.5 US/ 35 EU), Chantilly, will look at warm jackets and gloves (winter accessories cause I'm freezing >_>), Grimoire Verum tights and socks. Any Brand or Dear Celine Taobao staple items like: blouses, socks, hair accesories, and bloomers.
Not responsible for lost or stolen packages
Feel free to comment that you want something in case a transaction falls through
Item goes to the first person to leave a paypal address.
I will accept short term payment plans for any purchase in combination over $200 USD.
I do in person deliveries within Manhattan with cash discount :) Please Inquire.
Payment
I only accept Paypal (both non cc and cc)
I pay the Paypal fees
No e-checks please
Shipping & Handling
All items will be shipped from Brooklyn, New York 11221 USA
Willing to Ship Internationally
Will combine shipping
Items will be shipped by bubble mailers or boxes. Shipping within US with vary from $5-$12 depending on item weight and location
I am currently attending college classes, so it can take me up to 4 business days to ship out your package after receiving full payment. Thank you for your understanding!

Feedback
Feel free to ask any questions! ~ <3
You can view my older sales post here
http://egl-comm-sales.livejournal.com/20387921.html
Innocent World Antique Book Lucky Pack JSK + Headbow + Alligator Clip Set in Bordeaux SOLD For $250 Please stop messaging if this is available it has already been paid for.

Condition: 4/5

Great condition. Worn only a handful of times. Is lined and the back is shirred. Strap lengths are adjustable by resewing buttons attached to the straps, which I have done before since I am very short. Very easy to resew the buttons into their original position :). Waist ribbon is also detachable. I am selling this set with a matching alligator clip (you can attach it on the dress for additional cuteness or in your hair) and matching headbow, and will not split them up unless I have buyers for all three items. This set is sooooo cute, but I realized I never wear this because I prefer pastels or bold colors in lolita!

Length: 32 inches

Bust: 31 inch ~ 36 inches (Shirring)

Waist: 26 ~ 31 inches (Shirring)
Want to Sell or Trade Alice and the Pirates Queen's Coach OP in Ivory.

Selling for $300 including shipping within the USA OBO. SOLD

This beautiful one piece is in extremely good condition was worn only a handful of times. It does not have shirring but does come with waist ties.
I am only looking to trade for Queen's Coach JSK type I or JSK type II in Ivory. No others please!

Condition: 4/5
Measurements:
Length: 37 inches
Bust: 34.5 inches
Waist: 28 inches
Shoulder width: 14 inches
Sleeve Length: 27 inches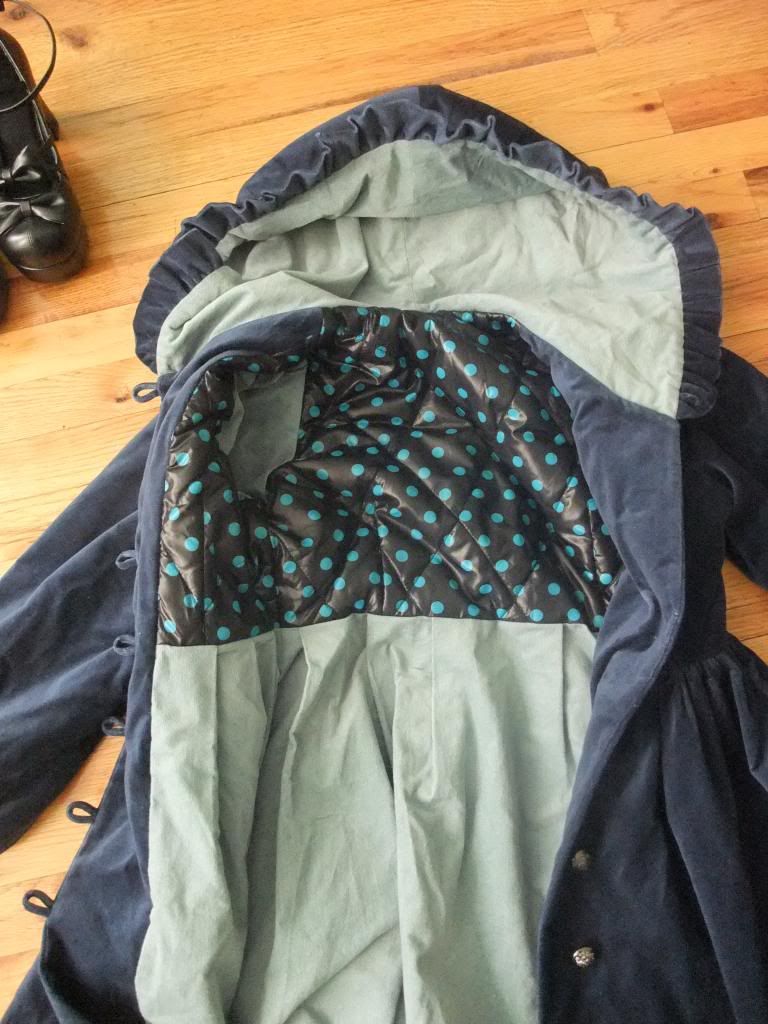 69th Department Alice Hooded Coat in Steel Blue with Winter Quilted Linin $175140 112 including shipping within the USA.

Condition: 5/5

Brand New Never Worn. 69th Department size M. This is an extremely warm coat because of the quilted inner lining and velvet/corduroy type fabric. Amazing for winter to keep you toasty warm from cold, snow and wind! It even has pockets and a hood to keep your head and hands warm! The buttons on mine (not the one in the store sample) are heavy duty plastic made to look like steel metal and have flourished crests with crowns on them. I absolutely adore this coat because it is the only lolita coat that is warm enough for me in New York winter that I have bought but it is too big for me :(. The color is like a steel blue that matches not only darker gothic coordinates but also lighter classic coordinates too. The quality of this coat is fantastic.

Length: 39 inches

Bust: 37 inches

Waist: 30 inches

Shoulder Length: 15 inches

Sleeve Length: 24 Inches

Cuff Circumference: 10 inches



h.Naoto HN+nois Leg/Arm Warmers Black x Red (Left): $35 28 OBO

Condition: 4/5

Great Condition no flaws, barely ever worn.

Length: 16 inches

Width: one size fits all ( extremely adjustable)


h.Naoto HN+nois Leg/Arm Warmers Black x White (Right $30 O SOLD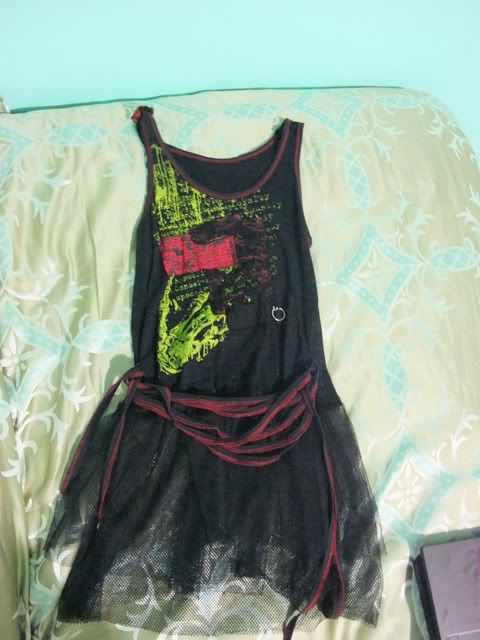 h.Anarchy Tulle One Pi $60 $45 36 OBO

Condition: 3/5

Black is not faded at all.

free sized item
Length: 34 inches
h.Anarchy Paint Splatter Shirring One Piec $70$55 44 OBO

Condition: 3/5

Black is faded but dress still has plenty of life left in it for more love :).
Adjustable Strap Length
Length w/o Straps: 26 inches
Bust: 26 inches to 32 inches with shirring

Waist: 28 inches to 34 inches with shirring
h.Anarchy Lace and White Paint Cutse $50$40 $32 OBO

Condition: 4/5

Missing Front Satin Lace Tie (Can be easily replaced with any black satin ribbon ties). Barely ever worn. Black is not faded at all.
Length : 29 inches
Bust: 30 inches
h.Naoto Black and White Distressed Shirt $60$40 $32 OBO

Condition: 3/5
Length: 26 inches
Bust: 38 inches
Adjustable Sleeve Length