Items in this listing are either in the US or in Japan. Items shipped from different locations cannot be combined.
My computers are also broken so there may be some communication delays.

♪~Payment~♪


Prefer payment by Paypal or bank/wire transfer, but will accept snail mail payments at buyer's own risk.




I am not responsible for any lost payments.




Prices are in US dollars. GBP, Euro, and JPY may also be accepted.




Buyers are responsible for Paypal fees which are 3% + $0.35 (US), 4% + $0.35 (other) or bank fees in the case of a transfer.




.


♪~Shipping~♪


Shipping from Hawaii, USA or Japan. Tracking is free for US domestic shipments only. Customs numbers will be forwarded and may be used for basic tracking.




Prices are not inclusive of shipping unless mentioned. Prices including shipping are only to the US.




International shipping through envelope unless otherwise requested. No economy post outside the US. EMS or Priority/SAL only.




I am not responsible for any packages once they have left my hands.




Insurance is extra at buyer's own cost.




.


♪~Other~♪


I will do holds and payment plans with a non-refundable 20% deposit sent via personal payment or with appropriate fees included required.




All sales are final. NO REFUNDS. Please make sure to ask any questions you have beforehand.


I expect responses within 24-48 hours unless previous mention of delay.
Please respond, even if it is to say you are no longer interested.


If you make an offer and I accept, then disappear or do not respond/send payment within 24 hours without leaving a reason why, I will leave feedback.




.




I reserve the right to deny sale at my own discretion.




I may consider trades in lieu of purchases at my own discretion.




Wish list at the bottom. I will consider almost anything.




.




Feedback:

http://community.livejournal.com/eglfeedback/1122027.html
.

JAPAN SALES


x
x
Miho Matsuda/GOLDSEAL Dandy Blouse: $200
Has crisp torchon lace and a very nice choirboy collar
Almost like new, gently worn a few times
Has no waist ties or shirring
Bust: 84cm
Sleeve: 43cm (from underarm)
Waist: 80cm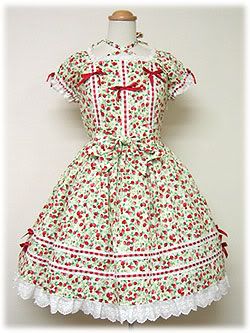 x
x
x

Angelic Pretty Strawberry Mini-sleeve OP: $236
Hellolace Entry
Adorable strawberry print karami fabric with tons of lace and ribbons.
Waist ties are detachable, has partial shirring
Bust: 86cm-92cm
Waist: 70cm~
Length: 88cm
USA SALES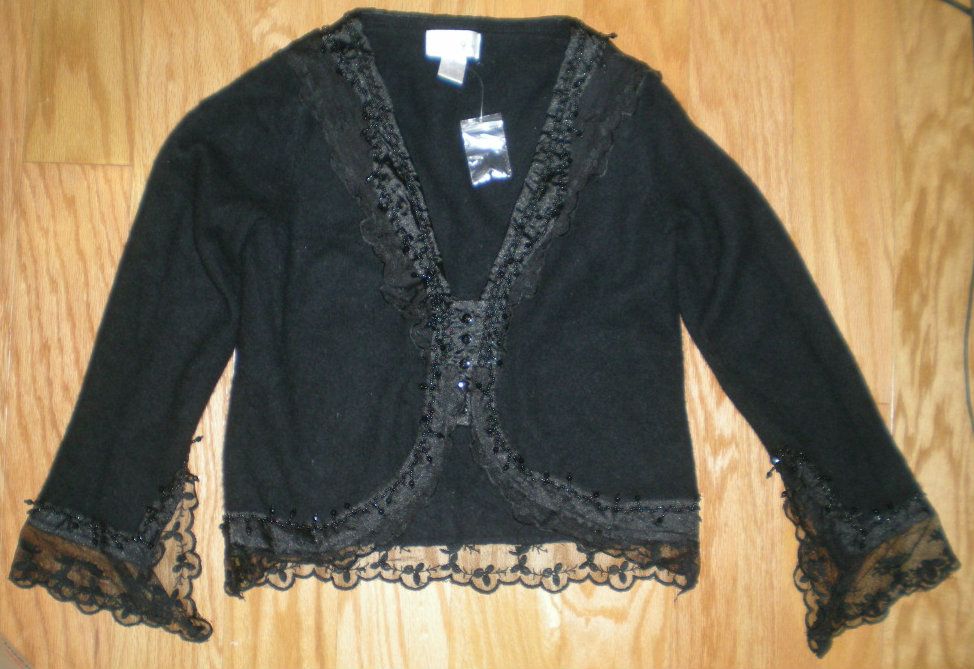 [x]


Jet and Lace Knit Bolero Cardigan: $50

Size S, new, knitted from Angora and lambswool
Originally cost over $100

Bust: 100cm-126cm

Sleeve: 56cm (64cm to lace

Length: 54cm
.




KERA Maniax vol.5: $20
Gothic & Lolita Bible vol.8: $25
Both used but in good condition, Kera Maniax missing patterns.




♥ WISHLIST ♥
Will consider trading for anything, but reserve the right to deny a trade.
Due to shipping costs, I prefer to trade within the US.
Trades must be sent within 4 days of trade agreement with tracking unless otherwise agreed. Traders must send first!
Please provide feedback link.
.
My current measurements:
Bust: 91cm
Waist: 71-73cm
Hip: 91cm
.
Primarily interested in:
Steampunk/pirate, clockwork styles, and corsets (24 or 26)
AATP, BTSSB, Metamorphose, Lief, HMHM, Atelier Pierrot, MMM, Juliette et Justine, Mary Magdalene styles
Gothic, chandelier, castle/coach, stripes, chess, fairytale, Harlequin and circus prints
Vintage medical/nurse fashion
Victorian/Steampunkish bags, clasp bags or trunk bags
Shoes that fit 9/9.5US (25.5-26/LL/3L), boots that fit 9-10 (25.5/26/LL/3L) or 40-42EU
Tea Parties, platforms, Victorian/granny boots, MMM, AATP boots (any color)
Cage skirts, petticoats, bloomer trousers and high waist trousers
Petticoats with megapoof or a nice full never-die shape, or long organdy/chiffon
Bell-shaped petticoats with moderate poof
High collar vests, parkas/capes/coats, massive hoods
Detachable sleeves in any color, primarily flared sleeves or poofy sleeves



♥ OLD SALES ♥
DS/DT: Offbrand sweets accessories, shoes, and dresses
DS: Offbrand cutsew
DS: Offbrand plus size top, corsets and headdress
DS/DT: Offbrand sailor top and fawn charm
DS/DT: Offbrand classic blouses, boleros, shoes, and fabric (some plus size friendly)
DS/DT: Plus size friendly skirts
DS: Offbrand jewelry
DS/DT: Lots of Sweet, Classic, Goth Brand/Indie/Offbrand (Plus Size and Petite Friendly) + Magazine
.
Will consider reasonable offers for old sales and old trades.