AFC/DS Head dress and hair accessories



My rules:
- Paypal Only, I will accept cash if you are willing to meet me in person at a convention or in the Cedar Rapids, IA area.
-Returns are only granted if I made the mistake, Please buy carefully, I do the best to represent the colors that I have but monitors do vary. I try to take the pictures in natural light for the best outcome.
- I do take rush orders, there is a fee involved for this. Please message me for more information

- US Buyers:
-Shipping is a flat rate of $3 for everything that will fit in my 4x4x4 box (or similar). For items not needing a box (such as the headbands) please request a shipping quote. Items are shipped First Class with delivery confirmation. Tracking and insurance is extra, please message me for a quote. First class generally takes 2-6 days depending on how far you live from me.
-The only exception to this is skirts/fabric that are able to fit into a priority envelope - then shipping is $5.95

-International Buyers:
- I will have to calculate shipping
- First Class International is $5-$8
- Registered Mail can be added for $15, this includes delivery confirmation AND insurance
- The only way to track International mail is through Priority International or Express Mail International, both of these options are $30+
-I can ship in a flat rate envelope Priority which the shipping for that is $16.95, one skirt can usually fit in there.
- Payments will be made in US dollars
- Buyers are responsible for all Paypal fees, this is already built into my prices.
- All shipping materials are 100% recyclable

Feedback:

EGL feedback for my shop
Personal EGL feedback

AFC:

I am available for several items for commission.

Head Dresses:
These are generally $20-$30 if you have a specific price point you would like please tell me ahead of time. Make time is dependent on the availability of materials locally or if I need to order them. I can make replicas but please keep in mind that exact replica's may not be possible.

Examples of my past work:



Other accessories:

I make lots of accessories including head bows, rosettes, jewelry, resin jewelry and more! All you need to do is ask, I love a good challenge!




Hair Corsages:
These corsages are on a comb, alligator clip or even head bands. They can be made with artificial flowers or I can make ribbon flowers for them. I can add elements like pearls and rhinestones to give it a nice sparkle as well.





DS

Head Dresses:
Hand made by me these are very beautiful and very easy to wear.

1. Pink x cream - cream lace and pearls surround a hand made rose of cream organza ribbon and pink satin ribbon. Two pink bows and a couple pink pearls really make this head dress pop. This is set on cream felt and a metal comb.

$25



2. Blue x Cream head dress. Blue ribbon and Cream organza ribbon were made into a rose and surrounded by blue bows with cream pearls. Has both an alligator clip and a pin on it for wearing as a large brooch

$25



3.Maroon and cream head dress with hand rolled maroon flower, velvet bow and hand made charm. The charm has brown and cream roses, brass gears, brass key and is filled with hand poured resin. This is a one of a kind piece and completely made by me.

$30



4. Brown and cream head dress with a seahorse charm.

$25



Other items

5. Light blue x white lace headband. This is perfect for adding a your favorite headbow to or just for a sweet and simple way to pull back your hair.
$6


6. Lavender and cream lace headband. This is perfect for adding your favorite headbow to or just for a sweet and simple way to pull back your hair.
$7




7. Resin filled ring with cream lace and pearl cabochons on an adjustable antique bronze ring.
$15





Skirts: These are all new and never worn.

Recently I decided to leave the garment end and solely focus on accessories and jewelry, because of this i have several skirts that have been started but unfinished and some finished skirts that need homes - all are discounted and at this point I only want to move them. Don't be afraid to ask for a discount if you want multiple skirts.

Finished Skirts
8. Black x Red skirt
$25
Waist: 28"-38"
length: 22"



9. Gingham and cherries skirt.
$20
Waist: 24-36"
Length: 21"



10. Gingham Cherries skirt
Waist: 24-40"
Length: 22"
$20



11. Tulip skirt
$15
Waist: 26-40"
Length: 23"



12. Pink and white flower organza skirt
$30
Waist: 36"-58"
Length: 25"



DS - Closet Cleanout

12. Square neck KMK Designs Blouse, their standard XL. Currently they only have their peter pan collared shirts on their etsy but the body design is the same. Original listing:
http://www.etsy.com/listing/62293817/lolita-blouse-victorian-with-peter-pan
Measurements:
XL
waist 41-44
bust 46-50
$65 shipped within the US
13. Dark Brown chemise, free size. Bought it for a coord that never materialized. Perfect for under corsets or high waisted skirts. Original Etsy listing:
https://www.etsy.com/transaction/6120634
6

$25 Shipped within the US



14. Custom made yellow x light blue JSK. Worn a couple of times has corset lacing on the front and shirring in the back. I had to split the lining of the skirt to fit a petticoat. This does not change the dress itself and I can serge the new raw edges for you if you want me to. Please see the picture below to see this. Has waist ties, bow, corset lacing and a headband with a mini hat on it.

Bust 40-52" corset lacing can make it go smaller though
Length: 36"

$50 shipped within the US


View of the split, I am willing to serge the raw edges if you would like me to.


Worn: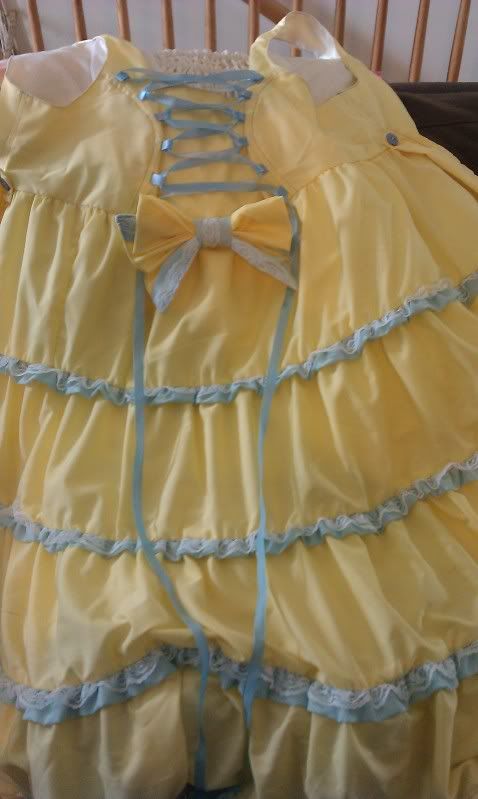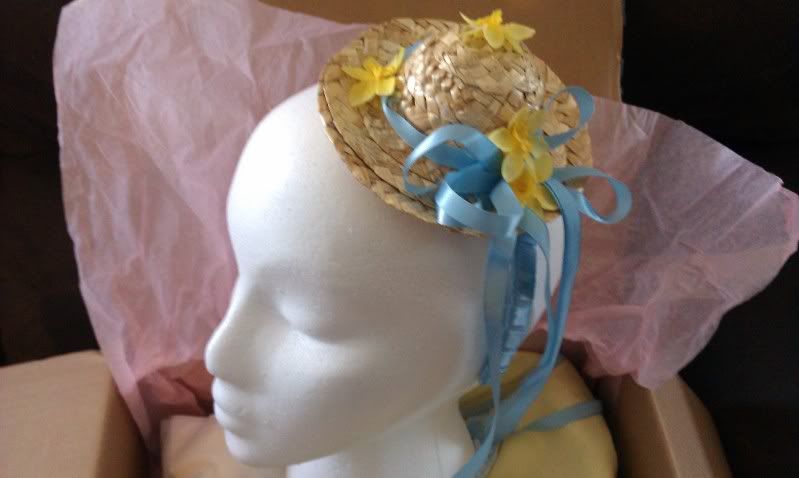 Socks:

15. FOR TRADE ONLY Light pink socks. Currently these are the only ones that match my Squirrel Party dress but I would gladly trade them for lavender, light blue or light pink socks. Plain socks please although I don't mind textures on them.




16. Grey OTKs, worn a few times and bought from sockdreams.
http://www.sockdreams.com/products/socks/over-the-knee/textured-cable-acrylic-otks

$8 shipped within the US by themselves. $7 if bought with another item



17. Navy knee socks only tried on. these are THICK and would be great for the winter.

$8 shipped within the us, $7 if bought with another item



18. Black Target socks, worn a few times now have a really nice pair and no longer need this.

$2 shipped within the US, Free if bought with another item