Hello everyone~! I'm back to making these again during winter break. These are made as they are ordered so please be patient. :)
Feedback:
http://community.livejournal.com/eglfeedback/636310.html
Shop Info:
- I only accept Paypal.
- I ship worldwide, but domestic gets priority.
- Fleece ears are $15.
- Fuzzy Bear Bonnets are $25.
- Prices don't include Paypal fees.
- Shipping and handling for USA is $6. International shipping is $12.
- First come first serve.
- I'm not currently interested in trades.
- If you have any questions, don't hesitate to ask.
Fleece Ears:
I have a variety of colors for these so just ask me which color you like and I'll see if I have it.


Bear Bonnets:
Tan
Cream
Chocolate

*Now I have a fabric texture a little less fuzzy like the tan bonnet.

Black


*Now I have a fabric texture that is more like the chocolate fabric.

White

*No stock photo available. See color of bunny bonnet.*

Pink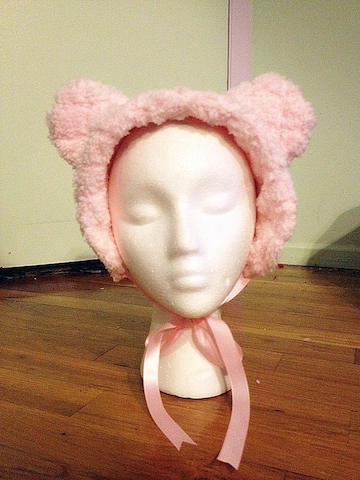 * Also available in mint.

Panda





Bunny Bonnet:

Style 1:


* Not available now because I can't find the wire. >.<



Thank you for looking! :3