★ Hi there! Thank you for looking! I'm switching from sweet back to gothic, so please help me make some room in my closet for things that I'll actually get around to wearing! ★
☆ Measurements listed here are
amateur
or taken from the brand's website/hellolace.
★ I accept PayPal. Please leave your PayPal address
or
PM it to me after you have made a reply here stating that you are definitely buying. Please pay your invoice within 24 hours.
☆ Prices include shipping (& tracking/signature confirmation) within the United States. Shipping outside of the US will cost a bit extra.
★ Please understand that the items are shipped from a home with a cat. He doesn't roll on my clothes by any means, but his fur is bound to turn up in the most unlikely of places -- including my closet at times! I will do my very best to make sure the items shipped to you are clean and fur/lint free.
☆ My
EGL feedback
+65
★ I am not open to trades at this time.
☆ I reserve the right to deny sales to people without feedback.


☆ ☆ ☆ I will not split the sets unless there is a buyer for every item included. Thank you! ☆ ☆ ☆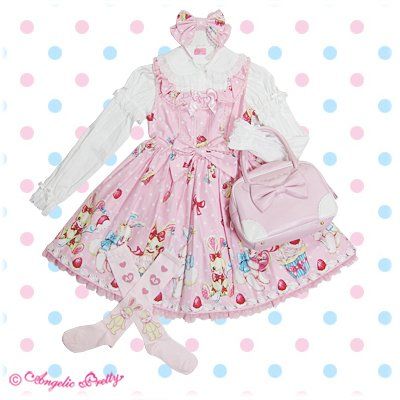 [ PROOF: front / back / back detail ]
Angelic Pretty Lyrical Bunny LP JSK + Bow Set in BLACK 225 USD including shipping within the United States
Sizing: Bust: 82-88 cm Waist: 70-80 cm Length: 84 cm
Description: This set comes with the JSK and matching head bow ONLY. Both pieces are in fantastic shape, worn only once.

☆ ☆ ☆ ☆ ☆ ☆ ☆ ☆ ☆ ☆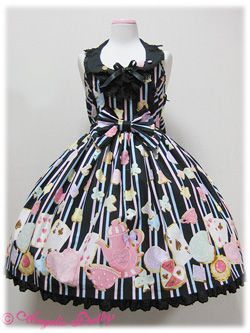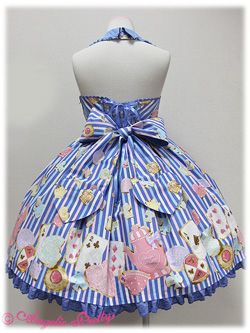 [ PROOF: front / back / back detail ]
Angelic Pretty Wonder Cookie JSK + Bow + Socks Set in BLACK 280 USD including shipping within the United States
Sizing: 89cm + 3.5cm (lace) length, 84cm bust, 67cm waist
Description: This set comes with the halter style JSK, matching cookie OTK socks (with tag) and matching head bow with removable lace piece. Great shape, never got around to wearing it, it's only been tried on. Socks still have the tags attatched.

☆ ☆ ☆ ☆ ☆ ☆ ☆ ☆ ☆ ☆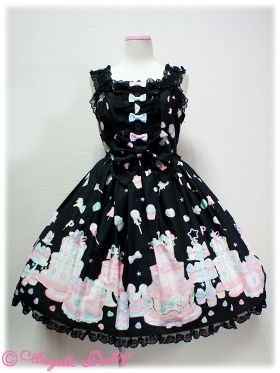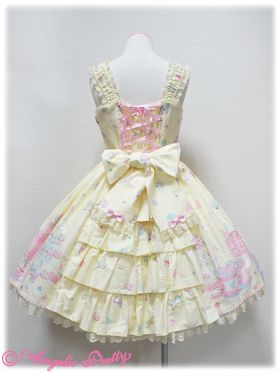 [ PROOF: front / back ]
b>Angelic Pretty Decoration Dream Back Frill JSK + Bow Set in BLACK</b> 260 USD including shipping within the United States
Sizing: Bust: 88~ cm Waist: 68~ cm Length: 86cm +3cm (lace)
Description: This set comes with the matching head bow. Both pieces are in great, like new shape!

☆ ☆ ☆ ☆ ☆ ☆ ☆ ☆ ☆ ☆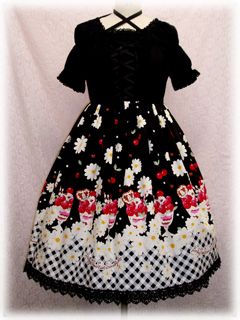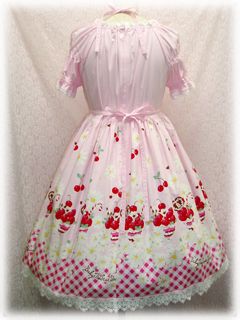 [ PROOF: front / back ]
BtSSB Early Summer Chocolate Parfait OP in BLACK 110 USD including shipping within the United States
Sizing: Zipper back, 94cm length, 40cm shoulder width, 86cm bust, 70cm waist, 20cm sleeve length
Description: This is a beautiful "vintage" lolita piece from 2005. It's in good shape and the print is crisp.

☆ ☆ ☆ ☆ ☆ ☆ ☆ ☆ ☆ ☆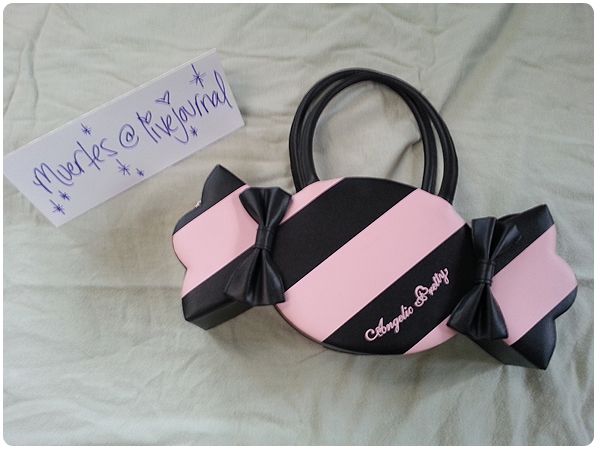 Angelic Pretty Candy Bag in BLACK x PINK 80 USD including shipping within the United States
Description: Adorable bag, used just a bit with no signs of wear. Zipper is functional and bag can hold most necessities like cell phone, makeup and wallet.

☆ ☆ ☆ ☆ ☆ ☆ ☆ ☆ ☆ ☆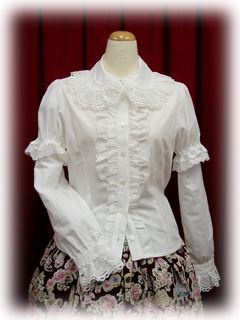 [ PROOF: front / back ]
BtSSB Detachable Sleeve Blouse in WHITE 70 USD including shipping within the United States
Sizing: 54cm length, 40cm shoulder width, 96cm body width, 80cm waist, 62cm sleeve length
Description: Blouse is new, never worn.

☆ ☆ ☆ ☆ ☆ ☆ ☆ ☆ ☆ ☆

Thank you! I will be at work today, but will be sure to try to answer questions in a timely manner. :)