Important things first:

I ship from Germany
All Prices in EURO, please see xe for conversion help if you need it
I only ask for the actual shipping cost, no handling&packing fee or such
Paypal fees not included
No pets, no smoke
Item goes to the first person who leaves Paypal for invoice (PM is okay too)
I will not reserve without a non-refundable deposit

Shipping:
Germany: Small up to 4,30€, Medium: 5,90€, Large: 9,90€
EU: Small up to 13,90€, Medium: 18.90€, Large: 29,90€
Outside EU: Depends on Location. Switzerland/ GB eg can have different prices than the US.
All prices shown above include insured shipping!

My Feedback page: http://eglfeedback.livejournal.com/353204.html

Feel free to make reasonable offers.


Angelic Pretty Marionette Girl OP



Original OP, new with tags. Has built in petticoat, a hidden pocket, is fully lined and features shirring and lacing on back and a pearl and palying card brooch.
Waistties and neckties are detachable. Only taken out of plastic for the picture and being tried on once.
I realised I wouldn't wear it and rather wanted the JSK.

Measurements taken flat:
Bust:38cm ~47cm
Waist:34cm ~42cm

Price: 300€ OBO

Hellolace link

Marionette Girl JSK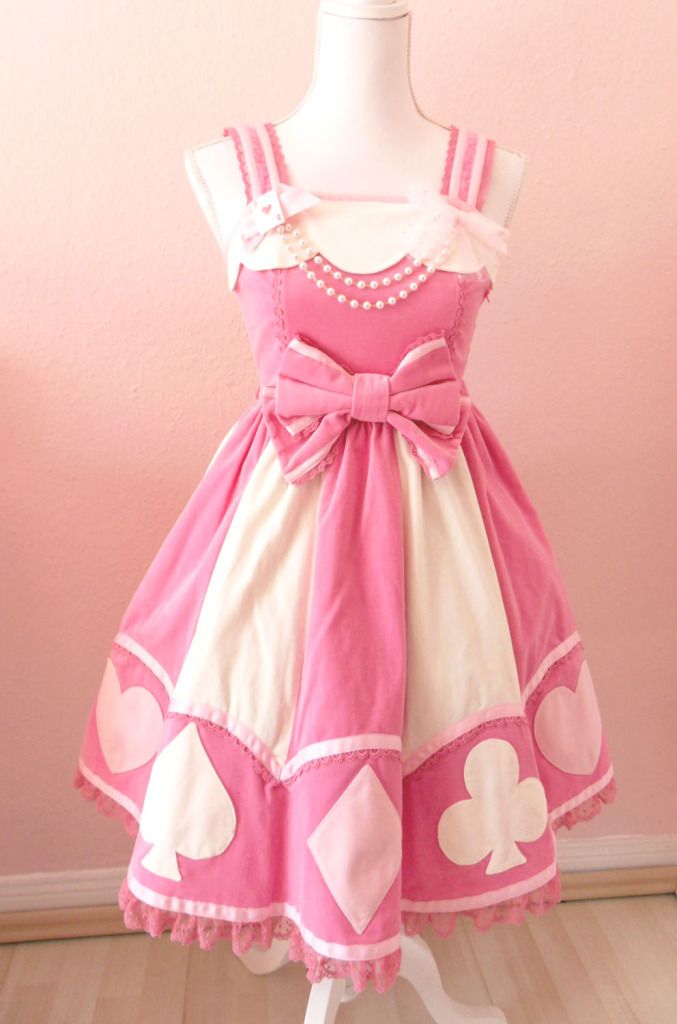 Link to Hellolace
Has built in petticoat, a hidden pocket, is fully lined and features shirring and lacing on back.
Waistties are detachable and so is the brooch on the front.
I always loved the series to death, but I would rather have the JSK in a different colourway.

Measurements:
Bust: ca. 88 ~100cm
Waist: ca. 68 ~78cm

Price: 280€ OBO

Alice and the Pirates pink striped Cutsew



Brust: ca. 84 ~ 100cm
Waist: ca. 70 ~ 90cm
Length: 46cm
Arm Length: 58cm

Price: 46€

Metamorphose Gingham Cherry skirt


Waist: 62-68cm
Length: 54cm with waistband
Lined and with built-in petticoat. mint condition
Lolibrary

Price: 80€

No brand skirt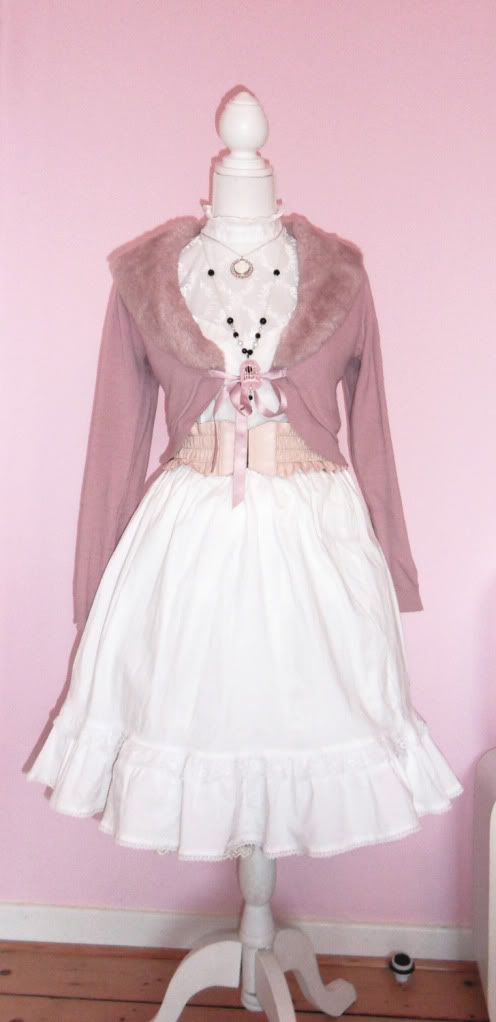 Waist: around 86cm
Length; 50cm without waistband

Really nice but simple skirt with one defect. The waistband turned yelowish when I ironed it. :(
I am not sure if it can be bleached.

Price: 30€

Metamorphose triple frill skirt


Additional pictures 1

Waist: ca. 60~90cm (Full shirring)
Length: 56cm with waistband

Fully shirred pink skirt with white accents. Belt is non-detachable and has two buckles. One round and pearly, the other one pink and heart shaped. Completely lined with built in petticoat. Super large circumference, you'll need a really poofy petticoat for this one!
I bought it new from the page for a pink Sailor Set and have worn it twice.

Price: 120€

Jupe de Fleur et Course in black


http://hellolace.net/wardrobe/juliette-et-justine/type/skirt/item/26/
Proof

Length 71cm
Waist 45cm measured flat (can be made smaller via drawstring waist)
Hips 46cm measured flat

Trade for something that fits plus size or best offer.

Pastel Striped OP yellow


bust:ca. 80~96cm
waist: ca. 60~78cm

New without tags, but with spare button and cloth set.

Entry at Hellolace

price: 180€

Pastel Striped OP lavender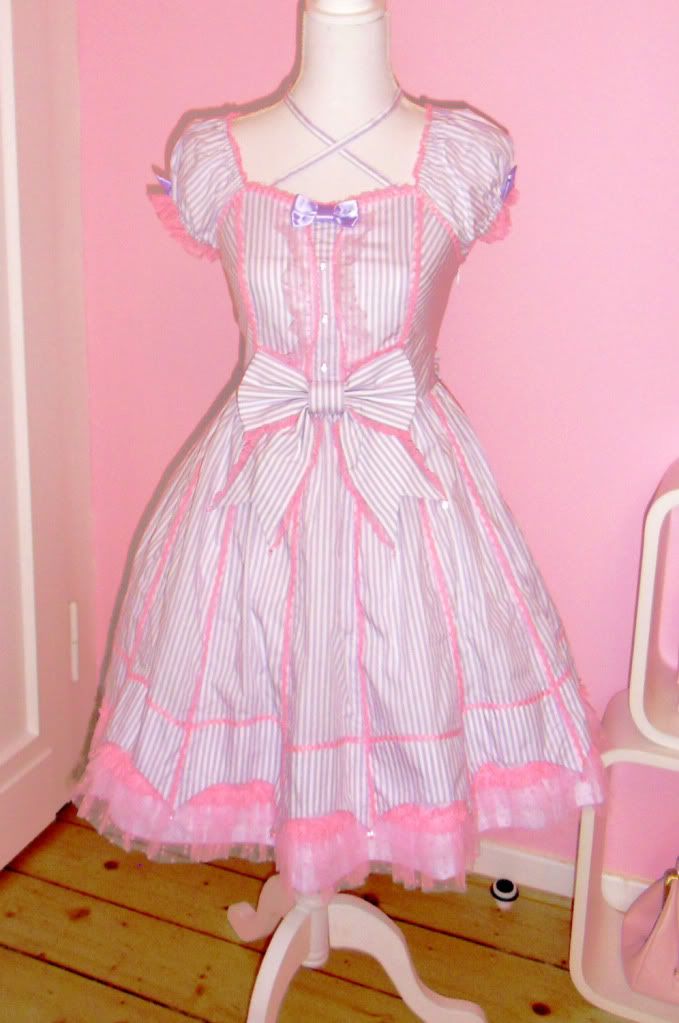 bust:ca. 80~96cm
waist: ca. 60~78cm

Worn once.
Entry at Hellolace

price: 160€


Navy Blue Metamorphose OP



Bust ca. 41~49cm
Waist: ca. 33~40cm
Arm length: 62cm

Very elegant OP in a navy blue. White cuffs and collar are detachable, underneath is a small standing collar. Has shirring and lacing on back. Seems to be on the rare side, since I wasn't able to gather more information about it.

Price: 180€ OBO

Metamorphose velvet JSK



Bust: ca. 80cm~98cm
Waist: ca. 66cm~78cm

High-waisted velvet JSK in the classical dark blue tone of Metamorphoses velvet series. Has shirring AND lacing in back. At the end of the skirt is a small lane of white cotton lace. Very oldschool style.

Price: 150€ OBO

Angelic Pretty Vertical Pintuck JSK, modified!


Has been altered by a professional seamstress.
She removed the last two rows of shirring (can be put back in) and cut a piece from the waistties to lengthen the straps.

Measurements now are:
Bust: ca. 80cm ~102cm
Waist ca: 80cm ~ 86cm (can go smaller with lacing and waistties)


Length 75cm without straps.

Price: 130€


AatP Antique Leather Lace Up Boots


Stockphoto
Size LL, used but very good condition. Black synthetic leather. (They are just named antique leather >_>)
Shipping is going to be pricey for these, sorry! I have to ship them in a large box.

Price: 160€ OBO

Metamorphose striped knee socks


New knee high socks with stripes and brandname at ankle height.

Price: 18€

Heart shaped clip


Plastic clip by Metamorphose with alligator clip and brooch on back. So can be used multiple ways.

Price: 10€

Star shaped clip


Plastic clip by Metamorphose with alligator clip and brooch on back. So can be used multiple ways.

Price: 10€

Handmade deer necklace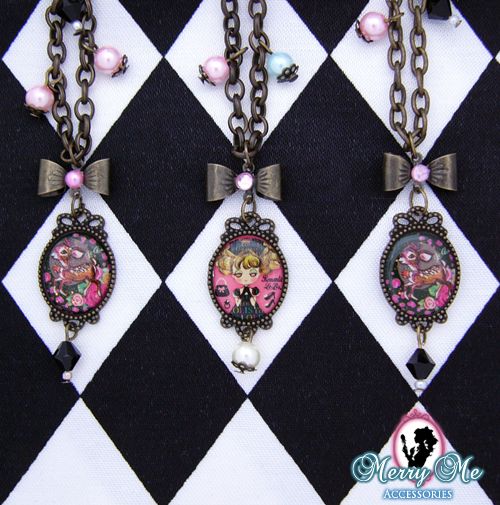 Worn
Handmade necklace with glittery deer charm, hiqu quality glass pearls and findings. Closes with a lobster clasp in back. All nickel free. I am highly allergic myself, so I always make sure all my selfmade jewellery is safe.

Price: 20€

Phone charm



Yellow ice cream charm, very sturdy. Different pearls available. Please state which colours you like, otherwise I will pick them for you ;)

Price: 8€

Thanks for reading! <3