My Feedback

*Please note: I live with two dogs. They are not allowed anywhere near my lolita items and I make every effort to remove lint from my clothing, but I want to warn those who are severely allergic to pet dander.*

My Decoration Dream pony and gold bedspread will be my proof.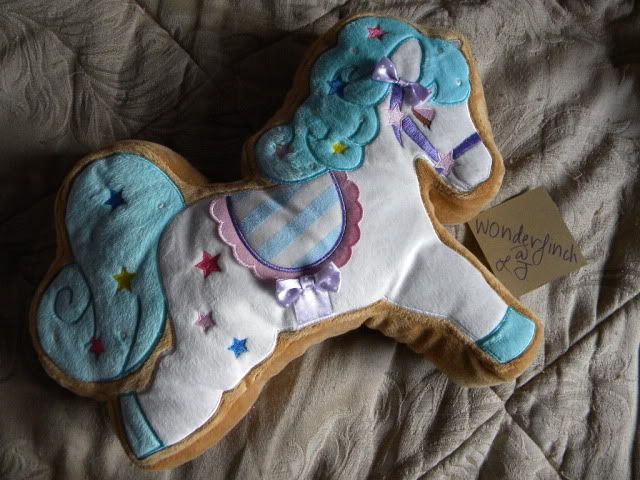 I still have an AATP Hymn JSK, MM Perfume Bottle OP, and AP Chess Chocolate Low-Waist JSK for sale here.
I also have a Wonder Party OP, OOAK Angelic Pretty Wonder Cup hat, and Fruits Parlor skirt for sale here.
Baby, the Stars Shine Bright Gingham Check Rolled Rose Doll OP
Trades only!


HelloLace page with measurements

I recently purchased this OP from BTSSB San Francisco, and much to my chagrin it doesn't fit me- at all. This dress is just way too baggy on my small bust, and because I have narrow shoulders it's much longer than I'd like it to be (it falls well past my knees). I know this is a look that some people like, but on me it just looks sloppy. It's been tried on briefly over an undershirt and petti, and is otherwise in unworn, brand-new condition.

I really love this dress, though, so I'm hoping I can trade it for the original release of the dress in pink or black (no red, please), which I know runs considerably smaller.

I'd be open to trading it for other old-school items from AP, BTSSB, and Meta. I love Meta's nurse releases. I like old BTSSB prints like Thumbelina, Sleeping Alice, and Cinderella. I also like old AP screen prints like Princess Silhouette, Sleeping Beauty, Cosmetics, Secret Garden, and Melody Doll. I'm also open to plain items like this or this. This piece is also a particular favorite. I don't like old-school styled items- release date is a factor for me because older items tend to run smaller and therefore fit me better. I'm also not open to trading this item for offbrand goods.

Aside from that, I'd be open to trading for casual AP items like this, but I'm primarily interested in old-school.

Terms of Trade
Trade Priority- US traders get priority. I am willing to consider international trades but I'm only likely to do it if offered a ~*dream*~ item because the cost of international tracked shipping would be $40-$50 for this piece. Other than that, I may ask you to wait for a few hours if I'm not sure about an item you're offering.
Shipment- I ship using USPS priority mail. This is tracked, insured, and will arrive in a week or less. I fully expect you to ship using a tracked, insured method that will arrive in a similar timeframe.
Customs- For trades, I WILL NOT mark a package down. If it gets lost in the mail there's no way to have any protection without insurance, and to get insurance I have to mark the true value of a package.
Local Pickups- I live in northern California. I will happily arrange local pickups.
Purchases- This is a longtime dream piece of mine, so if I can't find a trade I love I'd rather keep and alter it to fit me.