EACH ITEM HAS A DIFFERENT ENDING TIME IF IT IS BEING AUCTIONED OFF. However, I have the right to accept a BIN offer (one that has already been made by the cut-off time) at any time.
To make it fair, any bids within the last 5 minutes will increase the ending time by another 5 minutes. If anyone bids within the last 5 minutes after the 5 minutes, another 5 minutes will be added and so forth. This is to insure that everyone put up their final offer. If it is getting too late, I will cut off the ending time and accept the last offer.

FORM
Copy and paste this form and fill in the information when you are ready to buy.

-Your eglfeedback page:
-Your offer/bid/BIN price:
-Your email address (not your Paypal address. If it is the same, that is ok. Feel free to PM it to me):
-Country you live in:
-Do you have a US Paypal account or a non-US Paypal account?:
-Do you want insurance?:


---


IMPORTANT BASIC INFORMATION + TERMS OF SALE
-By making a bid, offer, or purchase, you have read and agreed to the terms stated in this post.

-Please do not comment if you aren't a serious buyer or if you do not have an offer. If you are a serious buyer, feel free to ask questions!

-Feedback: http://community.livejournal.com/eglfeedback/183713.html

-Please comment and tell me that you are sending a PM if you are going to send one.

-I EXPECT PAYMENT WITHIN 24 HOURS FROM THE TIME I EMAIL YOU WITH THE BREAKDOWN OF YOUR INVOICE. Failure to do so or backing out will lead to negative feedback from me. If you think that you can't pay within 24 hours, LET ME KNOW BEFORE I SEND YOU THE INVOICE and tell me when you will pay. Do not PM me or comment after I've invoiced you to say that you cannot pay within these time constraints. Payment not made within 24 hours (unless you gave me notice before I invoice you) will be considered as a cancellation. No excuses will be accepted.

-UNLESS STATED, ALL OF MY ITEMS ARE IN VERY GOOD CONDITION. Any large stains, rips, alterations, other damages, etc that I think should be noted will be stated on my post. Most of my clothes have been worn and washed unless it is stated that it is new so it might have small signs of wear.

-All bids are binding for 4 days, starting from the auction end date. If the winner backs out, then the next highest bidder gets the item and so forth. If you aren't the winning bidder but end up with the item due to the winner backing out, you are expected to buy the item due to the 4 day bind. If you also back out, that would lead to negative feedback since it is the same as a cancellation.

-Do not give me offers that include handling fees + shipping.

-No refunds and returns.

-All prices are in USD.

-Not interested in trades at the moment.

-I have the right to refuse an offer, bid, purchase.


---


TOS FOR PAYMENT PLANS
ToS written above applies to payment plans as well. The following information is additional information applicable to payment plans.

If we both agree on a plan, I ask that you keep up communication with me. If you think that you cannot make a payment on time but let me know in advance, I will give you an extension as long as you let me know which day you can pay instead. If you drop communication and I do not hear from you, I will consider the transaction as canceled and will leave you negative feedback. FOR EACH DEPOSIT PAYMENT, YOU MUST PAY THE HANDLING FEE (stated below). ALL DEPOSITS ARE NON-REFUNDABLE. I expect the first payment to be made within 24 hours from the time we made an agreement to go with the plan. If you do not pay within 24 hours, you will receive negative feedback.


---


INFORMATION ABOUT PAYMENT
-I prefer instant payments via Paypal. Let me know in advance if you are sending me an e-check before going through with the sale. If you send an e-check without prior notice, I will see that as late payment and will leave you neutral feedback.

-You will have to pay handling fees. International: 6% / US: 5%. Sometimes these handling fees won't cover all money handling fees which in that case, your shipping deposit will cover whatever amount that it needs to cover. These fees must be paid no matter what.


---


INFORMATION ABOUT SHIPPING
-I REQUIRE SHIPPING DEPOSITS. They may seem high but it is to ensure that I don't cover shipping costs out of my own pocket. Please do not ask me to lower them. IF SHIPPING ENDS UP BEING LOWER THAN THE AMOUNT OF THE DEPOSIT, I WILL REFUND YOU ONCE I COME BACK FROM THE POST OFFICE. IF SHIPPING ENDS UP BEING HIGHER, I EXPECT A REIMBURSEMENT WITHIN 48 HOURS. FAILURE TO DO SO WILL LEAD ME TO LEAVING NEUTRAL/NEGATIVE FEEDBACK.

-Domestic = USA ONLY (NOT NORTH AMERICA, meaning Canada isn't domestic), International = Any country that isn't the USA

-FOR DOMESTIC BUYERS: All packages will be shipped with tracking thus tracking costs will be added towards the shipping total. The shipping deposit amount should cover the tracking costs. 99% of the time I will use flat rate boxes to ship your item out. Please do not ask me to not include tracking or use a different method of shipping. If I need to buy a box or envelope to ship out your item, this will also be included in the shipping costs.

-FOR INTERNATIONAL BUYERS: I will ship your packages out using priority mail flat rate international boxes, unless specified. I cannot guarantee tracking. Please let me know if you want tracking and/or insurance.

I AM NOT RESPONSIBLE FOR LOST/DAMAGED ITEMS.

No local pick up.


---
DIRECT SALE
The measurements that I think are ideal for the dress:
-Bust: 82-84 cm
-Waist: 65-70 cm
There are waist ties to bring down the waist. No back lacing or shirring.

Maximum measurements (If you have these measurements, I don't know if you'd be able to wear a blouse underneath. I also recommend the dress for people who have a small-to-average build.)
-Bust: 89 cm
-Waist: 77 cm

My own measurement:
-Length: 102.5 cm

Please note that these measurements are amateur. I can't guarantee anything and have tried my best to be as accurate as possible.

PRICE: $100

Domestic shipping deposit: $11.35 ($25 with insurance)

MEXICO + CANADA International priority shipping deposit: $32.95 ($40 with insurance)
International priority shipping deposit: $47.95 ($55 with insurance)
Wore it a few times. In very good condition.

OFFICIAL MEASUREMENTS
-Bust: 93 cm
-Waist: 73 cm (I'd say the waist is a bit bigger, maybe 74 cm?) There are waist ties.
-Length: 102.5 cm

PRICE: $400 (or make an offer)

Domestic shipping deposit: $11.35 ($25 with insurance)

MEXICO + CANADA International priority shipping deposit: $32.95 ($40 with insurance)
International priority shipping deposit: $47.95 ($55 with insurance)
---
AUCTION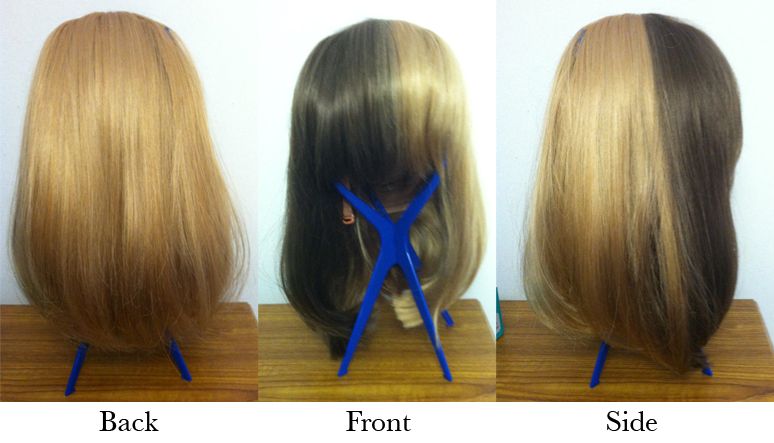 -The wig is heat-resistant. I don't know how much it can handle though but I have used heat on it and had no problems.
-I did wear this wig quite a bit but I think that it's in very good condition.
-I cut the bangs a bit. It looks the way it does in the pictures. I currently have the bangs straightened because I wanted them to be straight bangs. You can use straightener and style the bangs however you want them to be.
-The wig is quite thick. It's thicker than my Mintymix, Gabalnara, and Gabalmania wigs.

STARTING PRICE: $10 (or make BIN offer)
Bid increment: $1 or more

Domestic shipping deposit: $5.35 ($8 with insurance)

MEXICO + CANADA International priority shipping deposit: $12.95 (can't get insurance or tracking)
International priority shipping deposit: $16.95 (can't get insurance or tracking)

ENDING DATE: December 12th, 7 pm EASTERN STANDARD TIME

----



-Wore it a couple of times. In good condition. No waist ties, back lacing, or shirring.

OFFICIAL MEASUREMENTS
-Bust: 93 cm
-Waist: 73 cm
-Length: 98 cm

STARTING PRICE: $395 (or make an offer)
BID INCREMENT: $5 OR MORE

BIN PRICE: $450
I will only consider payment plan offers made by Dec. 12th, 7 PM EST

Domestic shipping deposit: $11.35 ($25 with insurance)

MEXICO + CANADA International priority shipping deposit: $32.95 ($40 with insurance)
International priority shipping deposit: $47.95 ($55 with insurance)

ENDING DATE: December 17th, 7 pm EASTERN STANDARD TIME


IMPORTANT INFORMATION: The earliest I can ship this item out is December 23rd, but most likely I will have to ship it out on January 6th. Sorry about the inconvenience U_U