My Feedback

Please see bottom for my terms of sale before asking questions about shipping, fees, payment plans, and holds. Thanks!

Angelic Pretty Chess Chocolate Low-Waist JSK
$300 including priority shipping, delivery confirmation, and insurance for US customers
Inquire for international shipping
Trades greatly preferred




Tags, button, and fabric swatch
Stock photos and measurements at HelloLace These measurements are accurate.

I went on a Chess Chocolate purchasing spree in January, and this is the last of the pieces I bought. I just have to face the fact that absolutely none of them fit me, no matter how much I wanted them too :c I am still absolutely in love with the print, though, and I would really love to trade for one of the items from this series that I haven't had a bad experience with XD I purchased it brand new from the AP US website and wore it just once, for about 3 hours, over a blouse. There are no flaws, stains, or signs of wear.

Trades: Items listed in order of priority:
Chess Chocolate miniskirt in pink (preferred) or ivory
Chess Chocolate Jabot JSK in pink (preferred) or ivory
Sugar Fairy Cake OP set in pink or black (NO PARTIAL SETS)
Items from the Dreamy Horoscope series (1, 2, 3) in any color BUT navy
Polka Dot Chocolate JSK or miniskirt in pink or black
Items from the Chocolate Rosette series (1, 2) in ivory or red.
I'd also be open to trades for items off my wishlist and pre-2007 brand goods.

Mary Magdalene Perfume Bottle OP
$425




Stock photos and measurements at Lolibrary
Please note: These measurements are NOT accurate. The outer dimensions of my OP are 86cm bust, 72cm waist, and 88cm length (+3cm for lace).

I bought this onepiece directly from Mary Magdalene's webshop. It's been worn once and will include the neck ribbon, extra button, and tags. I love this OP but it simply sits in my closet unworn most of the time as I have little occasion to wear such an ornate piece.

Trades: I would like to trade this for the BROWN JSK of this series. I'm not interested in other items for trade.

Alice and the Pirates Hymn OP
$300 including shipping, delivery confirmation, and insurance for US buyers
Inquire for international shipping
Trades Preferred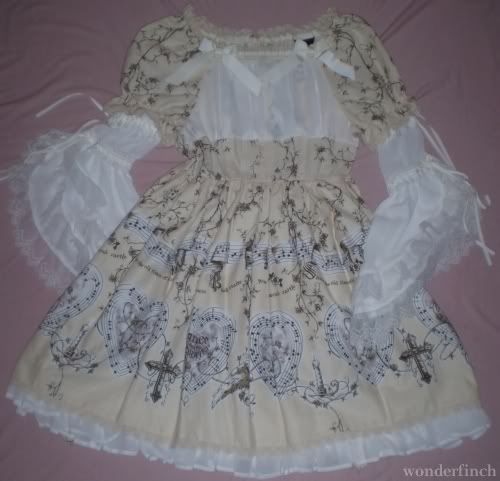 Stock photos and measurements at Lolibrary
Please Note: Again, stock measurements of this piece are inaccurate. The outer dimensions of my dress are 66cm waist, 86cm bust.

I purchased this OP straight from AATP's webshop and have worn it 4-5 times. I love this piece, but it's too over-the-top for my typical style. I'd rather trade it for something a little more low-key.

Trades: Items listed in order of preference:
JSK from the same series in black or ivory
Skirt from this series in black or ivory (partial trade)
Melty Mermaid Princess JSK in any color but navy
Kitty Kitty Rhapsody apron skirt in any color (ivory and pink preferred)
I'd also be open to trades for items off my wishlist and general pre-2007 brand goods.

Sale Pending
Jane Marple Music Note Skirt
$40 including shipping, delivery confirmation, and insurance for US customers.
Inquire for international shipping.




Back
Waist: 26-28"
Length: 26"

I received this skirt in a trade a couple of months ago. While it's very cute, I have a ton of other music note-themed items, and a ton of pink-and-black prints. I just can't justify owning this one, as well. I've worn it once and it appears to have been lightly used by the previous owner(s?). There are no stains or signs of damage.

Please note: I'm having a hard time getting a photo that accurately shows the item's color. It's a very pale pink, identical in color to Angelic Pretty's Marionette Clock (I can provide a photo of the items side-by-side for comparison).

Trades: I'd be open to trades for items off my wishlist and general pre-2007 brand goods. I may also be open to trades for casual and toned-down pieces from brands like Jane Marple and Emily Temple Cute.

And that's all! Again, I am extremely open to trades, holds, and payment plans as I would just like these pieces gone! Please don't hesitate to request a lower price or a payment plan. Additionally, if you'd like more photos or information, feel free to ask!

Terms of Sale
Payment- I only accept payment via PayPal. I ship when payments clear. I don't charge fees as it's against PP's ToS c: If you fail to pay within 48 hours of me sending the invoice I will assume you have flaked and negative feedback for nonpayment will be left.
Shipment- Prices include USPS Priority Mail shipment and tracking for all US residents. If you live outside of the US, please inquire for shipment costs. I always ship via priority mail to preserve my seller protection. Please inquire if you have some pressing need for untracked shipment and we can further discuss the matter. I ship within 3 days of purchase.
Local Pickups- I live in northern California and regularly visit the Bay Area. I will be happy to offer a discount for local pickups but payment must be made at the time of pickup- it can't be made via PP.
Offers- I'm open to considering lower offers on items c:
Trades- I am open to trades for all items listed here. I've listed specific items for trade for just about everything. For general items of interest, see my wishlist. I am short, petite, and prefer colors like black, pink, and bordeaux and brands like Metamorphose, Rose Melody, and Angelic Pretty. PLEASE NO REPLICAS, NO COMMISSONS, NO LARGE OR PLUS-SIZED FRIENDLY ITEMS. Taobao/offbrand are okay.
Holds/Payment Plans- If you can pay in full within 3 days I will hold items without a deposit. If you cannot pay within 3 days, I will hold an item if you can put down a 20% nonrefundable deposit. I will hold items for no longer than 3 months and neutral feedback will be left for late- or non-payment
Purchasing Priority The person who can pay in full and PMs their PP address gets first crack at an item.