~US buyers preferred as I'm paranoid about things getting lost during shipping overseas, haha. Shipping is
not
included; for US buyers, it's $11 for flat rate priority in a medium box (insurance is extra; please let me know if you want it). If you'd like a different shipping method, please ask for the price. For international shipping, in order to ensure that your item will arrive safely and quickly, I will only ship via registered International Priority; please inquire for the price. I have a busy college schedule, but I will try to ship out as promptly as possible.
~I am not responsible for packages lost or damaged in transit.
Choose uninsured shipping at your own risk!
~I don't charge for Paypal fees :3
~Feedback:
EGL
/
Ebay
~Just ask if you would like more photos. All I have right now is my phone, so I apologize for the somewhat low quality :P
~The first person to PM their Paypal and be able to pay my full asking price will have priority.
~I will accept payment plans, but only if you are paying my asking price (so no payment plans on offers) and can pay in full within 4 weeks. 25% non-refundable deposit is required.
~Paypal only, please. No e-checks.
~Everything comes from a smoke and pet-free home.
~No trades at this time, please.
BtSSB Versailles Rose skirt in pink - $100 +shipping SOLD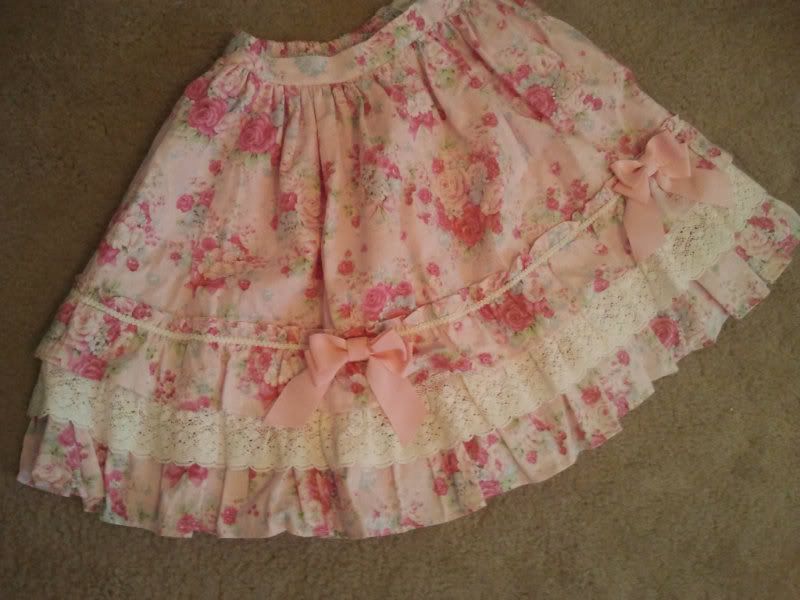 Stock info/measurements


This skirt is so pretty but I don't wear it, so I'm passing it on :3 It's in great condition; I believe the previous owner only wore it once. Sorry about the bad coloring on the photo (the lighting in my room isn't the best :/); the stock photo is true to color.


IW and Shirley Temple socks - $20 for the IW, $15 for the blue ST pair +shipping (MIDDLE PAIR SOLD)




Left: IW, far left: ST


I bought these but never ended up wearing them since I don't really have anything to match them. The IW and cream ST socks have a small amount of pilling on the foot area, but otherwise they are more or less brand new.


Sucre des Bonbon blouse - $30 +shipping




Detail of bust

A nice offbrand blouse. Only flaw that I can see is that it's wrinkled from shipping :P 88cm bust.


Bodyline blonde ringlet wig - $10 +shipping




Stock pics/info

(excuse the horrible pic since I don't have a wig head) Bought secondhand. Needs to be brushed a bit, but otherwise good condition. Unfortunately it doesn't suit me and that's why I'm selling it :<