-Shipping with USPS
-Willing to ship worldwide
-I have lots of positive feedback at eglfeedback (+95) and in my journal (+21)
-I have a cat, so if you are allergic please be aware
-Payment by PayPal only, no fees
-Extraneous comments will be screened
-I reserve the right to refuse sale
-Payment due within 3 hours after invoice
-If I accidentally overcharge for shipping+handling, I'll refund the difference
-Questions? Please don't hesitate to ask!


Alice and the Pirates: Chiffon Blouse (black)

back image
proof photo
example coordinate (but I'm selling the short sleeve ver)

This is such a gorgeous blouse, it's in great condition.
I bought it second-hand from closetchild and haven't even been able to try it on yet. :(
The neckline is so elegant! If measurements or more photos are needed, please let me know and I'll take them when I get home this evening- if the blouse is not sold by then.

Asking Price: SOLD
Shipping within US (w/ tracking): $6
Shipping worldwide: please inquire

-----------------------

Alice and the Pirates: Midsummer Night's Dream Bonnet (navy)

worn photo
proof 1
proof 2

Excellent condition, only worn twice
I love this bonnet, it's so elegant especially with the lilac ribbon contrasting the navy print, but I think I'd like to try something different for my Midsummer coordinate so I'm hoping this will go to someone else who'd use it well. :)

Asking Price: SOLD
Shipping within US (w/ tracking): $6
Shipping worldwide: please inquire (probably ~$12)
(I want to ship this in a box)

-----------------------

Mugi Bunny: Fawn Necklace




Never worn, still in packaging
It's very cute but just not my style.

Asking Price: $7 shipped within US
+ $1 shipped worldwide

-----------------------

DT: Alice and the Pirates- Midsummer Night's Dream
(navy) JSK II for (navy) JSK I Only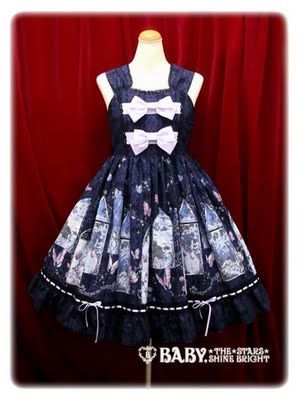 I'm not interested in selling or trading for anything else but JSK I in navy.
I'm a bit wary of trades so I'll only trade with someone with excellent feedback and I reserve the right to refuse trade if I feel uncomfortable.

my proof

If I find someone to trade with, I'll provide more photos.
Mine has only been worn twice and is in excellent/perfect condition.
Thank you for looking!